Follow us on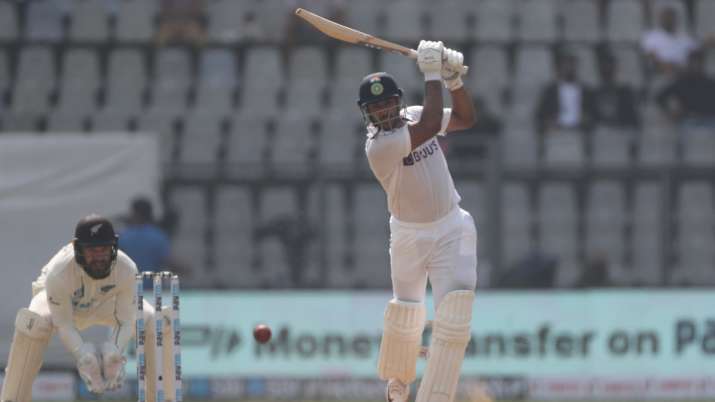 India vs New Zealand Live Cricket Score Updates 2nd Test
Hello and welcome to India TV's LIVE Coverage of the second Test between India and New Zealand at the Wankhede Stadium in Mumbai. 
Stumps Day 1, India 221/4: After 70 overs, the umpires have called it a day and Mayank Agarwal walks back with an unbeaten 120 to his name along with Wriddhiman Saha who is batting on 25. Ajaj Patel picked all the four wickets and bowled beautifully but it was an exceptional century from Mayank, who walked in under a lot of pressure and finally notched a ton after two years. We will be back tomorrow for Day two, which promises to be a cracker.
India 212/4 after 68 overs: This is going to be a crucial 20-25 minutes from India's point of view and both Mayank and Saha will look to carry their bat through and end the note on a high. Both batsmen are well-set in the crease and with 10 mandatory overs left for the day, it all boils down to light.
India 200/4 in 62 overs: Mayank Agarwal smashes his much deserved hundred. Saha giving Agarwal the rightful support to drive India and put a formidable total in the first innings. 18 runs from the last five overs.  
India 182/4 in 57 overs: India carefully consolidating the partnership without losing a wicket. 18 runs from the last five overs. Mayank close to scoring his century. 
India 164/4 in 52 overs: Wriddhiman Saha taking some to adjust to the field while Mayank Agarwal is just a few runs away from his century. Mere eight runs from the last five overs. 
India 160/4 in 47.4 overs: WICKET! Ajaz Patel strikes again, sends Shreyas Iyer to the pavilion. A slight change in variation- a flighted ball on the leg stump came comparatively quickly onto the pads, gets a thick inside edge and Blundell pockets a safe catch behind the stumps. 
India 156/3 in 47 overs: Mayank and Shreyas making a good stand between them. The opening batsman- Mayank who seemed to have well adjusted to the pitch is now going for the big hits. 35 runs gathered from the last five overs.
India 121/3 in 42 overs: Half-centurion Mayank and Shreyas Iyer are doing the damage control for India. India, which suffered a mini-collapse, are being amended by Mayank and Iyer. 10 runs from the last five overs. 
IND vs NZ 2nd Test, Day 1, 2nd session: The decision to bat after winning the toss favoured the hosts as the Indian batters- Mayank Agarwal and Shubman Gill were off to a fluent start. The duo blunted the Kiwi pace attack until Ajaz Patel got the first breakthrough and set Gill's way to the pavilion by breaking the 80-run opening stand. Thereafter, the Indian born New Zealand player- Ajaz Patel castled Cheteshwar Pujara and Virat Kohli in the same over. Thereafter, Shreyas Iyer and the opener Mayank, who smashed a fifty, are trying to steady India after a quick fall of wickets. 
India 111/3 in 37 overs: TEA BREAK. Action resumes in Mumbai at 3 PM.
India 105/3 in 35 overs: Mayank, Shreyas spending some time and trying to relieve India from the tense situation. The two are rotating the strike and keeping the scoreboard ticking. 25 runs gathered from the last five overs.
India 80/3 after 30 overs: Double Wicket Maiden - Pujara, Kohli depart without scoring - Huge Blog for India as Ajaz Patel has taken three wickets in two overs and this time it's the India skipper who has gone for a duck. Kohli has been trapped by Patel, the India captain challenges the decision and although there was an inside edge, the third umpire said he doesn't have any 'conclusive evidence' to overturn the decision. Ball tracking is in place and HawkEye shows three reds! Kohli is gone and he isn't happy but makes his way back. India under pressure. Pujara was first to depart and Kohli walks back without troubling the scorers. Pujara's struggle continues and India's No. 3 has departed for a duck. Ajaj Patel is posing some serious threat and after dismissing Gill, the left-arm spinner has got the prized scalp of Pujara. Two wickets in two overs and New Zealand have taken the control back. Tossed up delivery, Pujara dances down the track, tries to play the flick but misses it completely as the ball spins away sharply to hit the off-stump. Pujara is baffled and Patel is pumped up. Terrific bowling and there are enough signs that it's a turner. 
India 80/1 after 28 overs: WICKET - Shubman Gill has thrown it away as he fails to convert a good start into a big one. He was given a life by Tom Blundell, who missed a stumping but Ajaz Patel has got his man the very next ball. Gill pushes a tossed up delivery with hard hands, the ball spins, takes the outside edge and Ross Taylor doesn't drop those. Breakthrough for New Zealand and Gill departs for 44 off 71 deliveries. He will be very disappointed.   
India 71/0 after 26 overs: This has been a brilliant start for India with both Mayank Agarwal and Shubman Gill looking well-set in the middle. There is turn and bounce and both the Indian openers have applied wonderfully in the middle. Mayank is looking in good touch and needs a big hundred, given the stiff competition at the top. William Somerville and Ajaz Patel are bowling in tandem but are not able to provide the breakthough. 
India 63/0 in 21 overs: Agarwal, Gill rotating the strike and keeping the scoreboard ticking. New Zealand have roped in their spin bowlers and are badly looking for a wicket. 18 runs from the last five overs including a six from Gill's willow. 
India 45/0 in 16 overs: Agarwal, Gill rotating the strike and keeping the scoreboard ticking. New Zealand have roped in their spin bowlers and are badly looking for a wicket. 15 runs aggregated from the last five overs. 
New Zealand 30/0 in 11 overs: New Zealand bowlers doing the damage control now. After the spell of heavy runs in the start, Southee and Jamieson are giving little margin to the Indian batters to play around. Just five runs were gathered from the previous five overs. 
India 25/0 in 6 overs: India are off to a fluent start. Openers- Mayank Agarwal and Shubman Gill take on New Zealand's quick with easy in Mumbai. Gill pounces on Jamieson in the opening over and smashes three fours. 25 runs from the last five overs. 
India 0/0 in 1 over: Maiden over to start the proceedings. Southee's bowl is swinging well, the turf is offering a good bounce and the ball is carrying nicely to the wicketkeeper, unlike the Kanpur Test. 
Mayank and Shubman Gill are at the crease. Mayank is on strike. Southee will open the attack with the ball for New Zealand. 
78 overs to be bowled today.
Teams
India (Playing XI): Mayank Agarwal, Shubman Gill, Cheteshwar Pujara, Virat Kohli(c), Shreyas Iyer, Wriddhiman Saha(w), Ravichandran Ashwin, Axar Patel, Jayant Yadav, Umesh Yadav, Mohammed Siraj
New Zealand (Playing XI): Tom Latham(c), Will Young, Daryl Mitchell, Ross Taylor, Henry Nicholls, Tom Blundell(w), Rachin Ravindra, Kyle Jamieson, Tim Southee, William Somerville, Ajaz Patel
Just two sessions of play today.
@ 9:48 AM: New Zealand captain Kane Williamson will miss the second and final Test against India in Mumbai due to his elbow niggle. 
@ 9:30 AM: Big blow for India as Ishant Sharma, Ajinkya Rahane and Ravindra Jadeja have been ruled out of the Mumbai Test. 
As per reports, there is a possibility that Kane Williamson won't play today due to his tennis-elbow problem.  
@8:32 AM: Team India have arrived at Wankhede Stadium for the second Test against New Zealand. 
Preview: Test cricket returns to Wankhede after 2016 as India, New Zealand face off in 2nd Test
The iconic Wankhede Stadium, which has hosted several high-profile matches, including the 2011 ODI World Cup final, will host a Test after almost five years when India take on New Zealand in the second match of the series. 
The last Test, which the South Mumbai ground hosted was against England from December 8-12, 2016 against England, which the hosts won by an innings and 36 runs.
Last time, when India played here, skipper Virat Kohli has scored a monumental 235, so come Friday it remains to be seen where the skipper, who had taken a break for the first test, can score another daddy hundred, which has been missing for the past two years.
Squads:
India Squad: Mayank Agarwal, Shubman Gill, Cheteshwar Pujara, Virat Kohli(c), Ajinkya Rahane, Shreyas Iyer, Wriddhiman Saha(w), Ravindra Jadeja, Ravichandran Ashwin, Axar Patel, Umesh Yadav, Ishant Sharma, Mohammed Siraj, Jayant Yadav, Srikar Bharat, Prasidh Krishna, Suryakumar Yadav
New Zealand Squad: Tom Latham, Will Young, Kane Williamson(c), Ross Taylor, Henry Nicholls, Tom Blundell(w), Rachin Ravindra, Kyle Jamieson, Tim Southee, William Somerville, Ajaz Patel, Mitchell Santner, Neil Wagner, Glenn Phillips, Daryl Mitchell