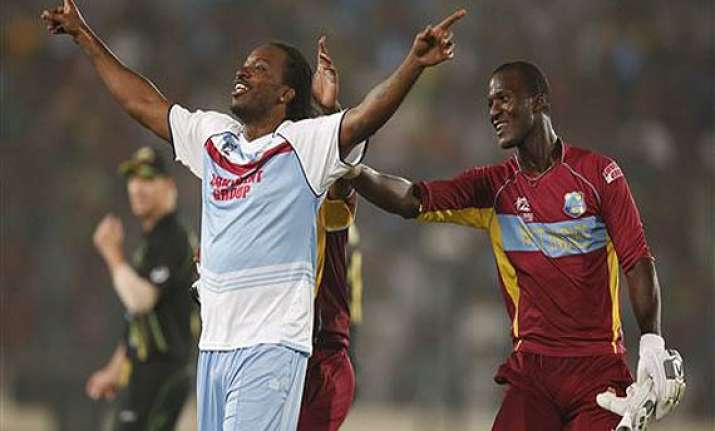 Dhaka:  There was absolutely no doubt that Chris Gayle thoroughly enjoyed the West Indies' thrilling victory over Australia in their ICC World Twenty20 Group 2 clash.
When captain Darren Sammy belted the fourth ball of the final over from James Faulkner back overhead for a six to seal the win Friday, Gayle sprinted from the dugout, took a tumble, regained his feet and charged onto the field to celebrate.
He bared his fists and screamed before breaking into his signature Gangnam style dance, much to the delight of delirious teammates and spectators.
"I was really pumped-up for this game. Hopefully, it can be like this in all the games and the coming game against Pakistan," Gayle said Saturday.
"But there is always that extra edge and you have to step up your game when you play Australia. When you look at Australia's team on paper, they are one of the best all-round teams in this format. There's been a lot of talk and that added up and I just wanted to beat them."
The build-up to the game was highlighted by Faulkner's controversial comment that he did not "particularly like" the West Indies and it was evident the Caribbean side was extra motivated to beat the Aussies.
Chasing 179 for victory, the West Indies staged their highest successful run chase in T20Is to seal a six-wicket win with Sammy clobbering two sixes to earn the 12 runs his side needed for victory in the last over.
"It was a sweet victory. This was a must-win game for us to actually give ourselves a chance to go to the semifinals and the way we went about it batting-wise was excellent," Gayle said.
"I think myself and Dwayne Smith have been batting really well. He exploded in the last game and this time he got out early and I took on the battle and got the team in a good position. Having said that, Lendl Simmons played a part as well but it's the captain -- all the credit must go to him, to come in and score a fine 34 off 13 balls and give us the win. I am very happy."
Gayle gave the West Indies a swift start to their chase, smashing 53 off 35 balls to return to his usual aggressive self, following two sedate innings against India and Bangladesh. However, he said there was a deliberate plan to attack Australia from the outset and this called for a change in his approach.
"I've been hitting the ball really well. The last game I was a little slow but these things do happen in cricket. It's not every time you're going to get good conditions to bat in so it's just one of those things," Gayle said.
"We've played against Australia so many times and they have a quality bowling attack. We wanted to get them on the counterattack and it paid off for us. It put them on the backfoot as quickly as possible. But the start was excellent. That is what you require when you're chasing a score like 170-180."