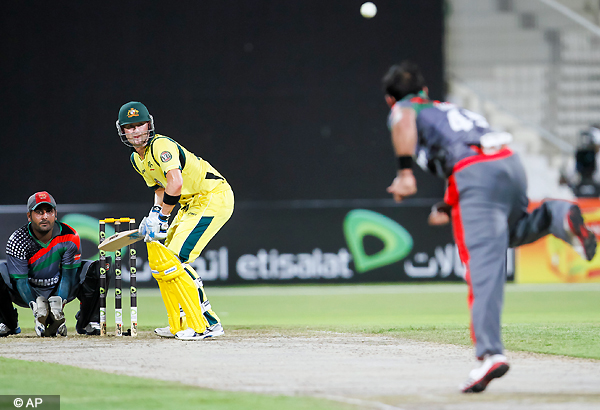 Sharjah, Aug 26:
Australia beat Afghanistan by 66 runs Sunday in a one-off one-day international that went some way to proving that the war-torn nation can compete with the world's cricketing elite.
A boisterous crowd of mostly Afghan expatriates braved the humid conditions in the United Arab Emirates to watch their team play only its second ODI against a test-playing nation.
The crowd stuck around as the late night match, which started Saturday evening, ran until 2 a.m. local time to avoid the worst of the heat.
Australia started strongly after winning the toss and electing to bat as opener Matthew Wade and captain Michael Clarke scored 75-runs each and shared a 131-run partnership after David Warner was caught behind off Shapoor Zadran (2-60)
Offspinner Mohammad Nabi (2-50) had Wade caught and bowled in the 35th over and Clarke fell shortly after to Samiullah Shenwari (1-48).
Allrounder
Glenn Maxwell
scored just 2 runs, becoming Nabi's second victim, before Mike Hussey steadied the innings with 49 off 37 balls until he was bowled by Karim Sadiq (2-22).
Afghanistan's reply got off to a poor start when opener Javed Ahmadi was bowled by Mitchell Starc (4-47) for a third-ball duck. Starc struck again four overs later to remove the other opener, Karim Sadiq, for 17 runs.
Nabi and Asghar Stanikzai put on an 86-run partnership to make the match interesting though Afghanistan never seriously threatened the 273-run target.
Once Nabi was bowled by Mitchell Johnson for 46, Afghanistan seemed to lose its focus never regained its momentum.
Stanikzai was bowled next by Starc for 66 and then Najibullah Zadran was caught by Wade off a Johnson ball for a duck.
"Definitely we are disappointed. We were here to win this game and we were in position to finish it off on a high note," Afghanistan captain Nawroz Mangal said. "We could have won that game. It comes down to maturity and adapting ourselves to the situation. In the future, we will rectify that error."
Starc said he had never seen the Afghanistan side play before, but came away impressed.
"I thought they played in these conditions quite well and it was quite a competitive match," he said. "They are going to be a good side and win some games in the future. It wasn't an easy game and we knew we would have to play our best."
Afghanistan was not expected to beat Australia which only recently lost the No. 1 ODI ranking after being whitewashed by England in July. Its appearance on the same pitch as the Australians gives its players much-needed international experience and is another sign that Afghanistan is a team to watch in the coming years.
Made up of players who learned the game in Pakistan refugee camps, Afghanistan has gone from the World Cricket League Division 5 in 2008 to playing its first ODI this year against a test playing team in Pakistan.
The team's success has helped cricket replace football as the national sport, and even the Taliban have approved cricket where frequent breaks mean the sport doesn't interfere with prayer times in the Muslim nation.
Cricket clubs have sprung up across the country and the government is building new grounds in order to keep up with the demand.
Mangal said he hoped plenty of supporters back home saw the match and were inspired to either to take up cricket or continue supporting the national side.
"The future is very bright for Afghanistan cricket," Mangal said. "I'm sure viewers back home will be happy with the way we performed. The performance we put up against Australia hopefully will make them proud and happy."
Starc said it was important for Australia to take Afghanistan seriously as it works its way back to its best form.
"Obviously there was a lot of talk from the England series and we wanted to come out and stop the talking and put actions on the board," Starc said. "We did that tonight and we put a good score on the board and our batters batted quite well in the heat. The bowlers came out and defended the score. Overall, we are quite happy with the way we performed and it's a good lead up to the Pakistan series."
Australia plays the first of three ODI's against Pakistan at Sharjah on Tuesday.