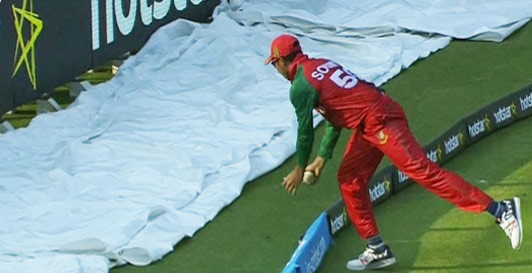 Kolkata: Bangladeshi cricketer Soumya Sarkar took a brilliant catch to dismiss Pakistan's Mohammad Hafeez for 64 on Wednesday in ICC World Twenty20 match against Pakistan at Eden Gardens in Kolkata.
In the 17th over of Pakistan innings, Hafeez tried to launch Arafat Sunny over mid-wicket but Sarkar, who was defending the boundary line, jumped on to his left to take a catch, but the momentum took him over the boundary but the 23 year old showed great agility popping the ball back in air and moved back inside the boundary line then safely took the catch again.
Bangladesh may have lost the match but cricket lovers are going gaga over Sarkar's stunning catch. His atheleticism and awareness is winning him praise across social media as the video of the catch is going viral online.