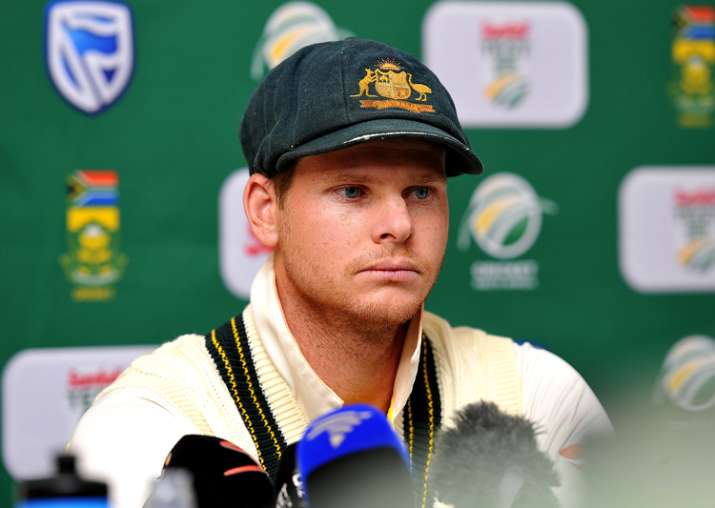 Former fast bowler Jason Gillespie is the latest Aussie legend to speak on the ongoing ball-tampering saga that has rocked the Australian cricket team and fraternity. 
Gillespie, who played 71 Test matches and 97 ODIs, has come down heavily on current Australia captain Steve Smith and vice-captain David Warner.
In a strongly-worded column in The Guardian, Gillespie said Smith should be removed as captain and that the "Australian men's team will now need to rebuild public trust from scratch".
"Steve Smith's time as Australia's captain is surely up. It is impossible to envisage a scenario where he stays in the job. This is a train wreck. When Smith fronted the media on Saturday to explain his role in the ball-tampering scandal ... he did not appear to grasp the severity of what he was owning up to. That simply beggared belief. This was pre-planned cheating. The reputation of a team who were already drawing scorn for their behaviour has been torched," Gillespie wrote.
Smith was banned for one game as he and vice-captain David Warner stepped down from their roles on Sunday amid a cheating scandal that has outraged their country and threatens a far more damaging fallout for one of the game's most exalted teams.
It even caused Australia Prime Minister Malcolm Turnbull to ask: "How can our team be engaged in cheating like this? It beggars belief."
Smith, the No. 1 batsman in Test cricket, and Warner stepped down from their leadership roles for the rest of the third Test in South Africa following the team's confession to cheating by tampering with the ball with a piece of yellow adhesive tape and some dirt during play on Saturday.
Smith and Warner still played on the fourth and what turned out to be the final day of the Test at Newlands in Cape Town on Sunday but had no leadership responsibilities as Australia crashed to a humiliating 322-run loss. Their long-term futures hang in the balance, as does that of 25-year-old Cameron Bancroft, the man tasked to carry out the tampering by senior players led by Smith.
The 42-year-old Gillespie said the Austalian cricket team now needs to rebuild public trust from scratch.
"The brutal reality is that this team are seen as arrogant and all too quick to dictate "the line" to others. It was not so long ago that (vice-captain David) Warner was ripping into Faf du Plessis for ball-tampering in 2016, saying Australia would never do the same. The events over the weekend have exposed this as rank hypocrisy.
"It is little wonder the fallout has been so huge and sympathy for Australia has been in such short supply. Because for all the good cricket played in this series against South Africa – and we are watching two excellent sides – the atmosphere has stunk and it has made the viewing less enjoyable than it should be," he wrote.
"So the Australian men's team will now need to rebuild public trust from scratch. What must happen is a period of serious introspection. There are some fine individuals in the set-up, trust me, but as a team they need to re-examine how they play the game, along with their behaviour and image overall.
"Australian cricket will survive this and provided there is some honesty with the camp, it will hopefully emerge in better shape. New leaders will rise up and take the side forward. But it will not be Smith and it will not be Warner," he added.
The futures of star batsman Smith, Warner, Bancroft and even coach Darren Lehmann are in question after Smith said he was part of a group of senior players who hatched a plan to cheat on Day 3 of the Test on Saturday by messing around with the ball illegally in an attempt to give Australian bowlers an advantage.
Bancroft appeared alongside Smith to confess that he was the man who did the on-field tampering. The plan unraveled when Bancroft was caught by television cameras tampering and then trying to hide the offending piece of tape down the front of his trousers, heightening the embarrassment for Australia.
It appears that vice-captain Warner was also part of the plot as a member of the "leadership group" that Smith said came up with the plan.
Smith was banned for the final test of the series and Bancroft was given three disciplinary demerit points by the International Cricket Council, but not suspended. Warner's possible role in the plot was not addressed by the ICC but Cricket Australia will deal with all three of them, and maybe Lehmann and others. Australian media have been asking tough questions over how much Lehmann knew about the plot.
(With agency inputs)