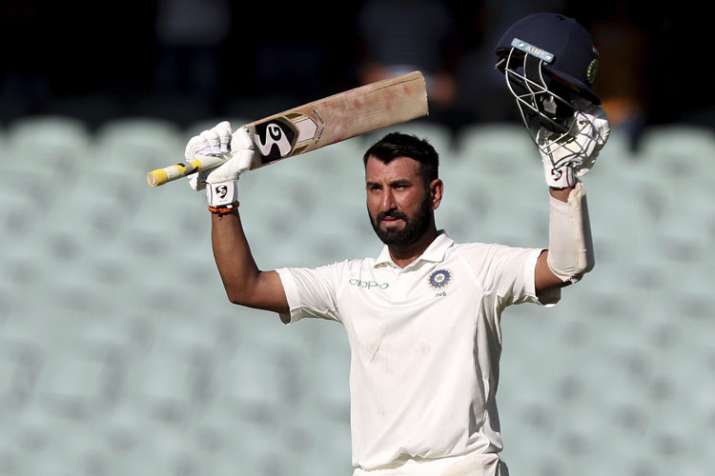 Former India captain Sourav Ganguly on Thursday slammed the Indian batsmen for throwing their wickets away while attempting to play "too many" drives off Australian fast bowlers on day one of the first Test in Adelaide.
"We didn't see much seam and bounce on this pitch and Adelaide is probably the best pitch to bat on in Australia. Indian batsmen could have scored more on this track after winning the toss and opting to bat," Ganguly told IndiaTV during 'Cricket Ki Baat' show.
After winning the toss, India rued reckless batting from their top-order starting with openers KL Rahul and Murali Vijay falling to loose drives. The visitors slumped to 19/3 when captain Virat Kohli was spectacularly caught by Usman Khawaja in the gully for just three runs.
Khawaja dived and snared the ball in his left hand. Kohli, the No.1 batsman in the world, has scored just 49 runs in his past six test innings against Australia. He had scored three centuries in his previous two tests in Adelaide.
Ajinkya Rahane (13) fell in the slips to an impulsive stroke as India crashed to 56-4 at lunch. They slid further when Rohit Sharma holed out attempting a slog off Lyon. Sharma, who was selected at No. 6 ahead of allrounder Hanuma Vihari, fell for 37 off 61 balls.
Ganguly termed India's batting display as 'loose' and said that the batsmen failed in their shot selection.
"Indian batsmen have failed in their shot selection. It was a loose batting display from the visitors. You can't play so many drives early on while batting in England, Australia and South Africa. Indian batsmen tend to play a lot of drives early on and specially on this sort of pitches. KL Rahul, Murali Vijay and Virat Kohli got dismissed playing similar shots. The worst dismissal was of Ajinkya Rahane. He played a ball which was too far," Ganguly said.
While lamenting on other batsmen, Ganguly praised Cheteshwar Pujara, who defied Australia's bowling attack and overcame stifling conditions at the Adelaide Oval with a century on the opening day.
India were in danger of being bowled out cheaply after reckless batting in the opening two sessions, but Pujara scored 123 runs as India reached stumps at 250 for 9. It took a brilliant direct from Pat Cummins to remove him on what happened to be the final ball of an absorbing day one of the four-Test series.
"India wouldn't have reached to this position without Cheteshwar Pujara's performance. They were reeling 126/6 on a good wicket in Adelaide.
The 46-year-old said Pujara's knock was a great example for other batsmen in the team to follow in Test cricket.
"When Pujara came out to bat in the morning, he took 70 balls to score 11 runs. This is how Test cricket is being played. You must give respect to the bowlers when the Kookaburra ball is new. Pujara started playing his shots only after Lunch. This is exactly how batting in Test cricket should be and the other batsmen need to learn from Pujara. 
"Most importantly, the other batsmen need to learn that they shouldn't play so many drives against a fast bowler so early in Test cricket. Pujara had a game-plan in mind, he waited for the short ball, played square of the wicket. His first hundred in Australia is an important one for the team," he said.
Ganguly was also disappointed with the performance of Rohit Sharma, who got the nod ahead of Hanuma Vihari in the playing XI. Rohit played a horrendous shot to get dismissed on 37, leaving India in the lurch at 86 for five in the 38th over.
He said that it's important for Rohit, largely considered a limited-overs specialist, to score runs for India in the longest format of the game. 
"I agree that Rohit Sharma shouldn't have thrown his wicket away in such a manner, especially after getting set and with spinners bowling with the old ball. It's a very important series for Rohit and can be a make or break situation for him. He has to score runs for India in Test cricket," Ganguly said.