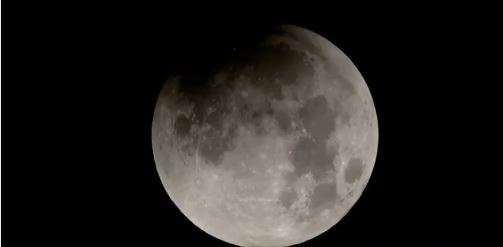 January 31 was an exciting date for stargazers as the day marked the rare phenomenon of super blue blood moon. Basically, supermoon coincided with total lunar eclipse and blue moon, thus known as super blue blood moon. Indians witnessed this after 35 years as last such rare show by moon happened in 1982 in Asia.Supermoon occurs when the Moon is at its closest point to the Earth in its orbit, known as perigee. Moon appears 14 per cent brighter than usual during Super moon. Blue moon is the second full moon in a month. During total lunar eclipse. the Earth casts a shadow on the Moon which will give it a reddish tint, known as blood moon.
People enjoyed super blue blood moon with naked eyes from terrace and balcony. Besides, there were also some special arrangements by Nehru Planetarium and SPACE India to observe the phenomenon. Nehru Planetarium at the Nehru Memorial Museum and Library organised an event, "A moonrise in Eclipse!", from 6.30 p.m.-9 p.m. on Wednesday. Also, SPACE India, a start-up focused on astronomy education and astro-tourism services, said it would also organise events to observe super blue blood moon from 6p.m.-9.30 p.m. at various locations across India, including at India Gate. NASA too live streamed the phenomenon. Click the link below for the live feed.
https://www.nasa.gov/multimedia/nasatv/index.html#public
Also, check the tweet by official handle of NASA
LIVE NOW: Watch views of the #SuperBlueBloodMoon from multiple telescopes. Take a look: https://t.co/a5ScGDXhQu

— NASA (@NASA) January 31, 2018
Here are some initial pictures of super blue blood moon of 2018 from Twitter.
LOOK: First glimpse of the #SuperBlueBloodMoon in Albay. Just as the moon was rising, Mayon rumbled as it continues its activity. A bit hazy and cloudy in Camalig, Albay. | via @raffytima pic.twitter.com/Opc6zqxp1N

— GMA News (@gmanews) January 31, 2018
My first shot of the #SuperBlueBloodMoon as soon as I saw it pop up this evening.

Rising up over the Hume solar farm here in #Canberra. pic.twitter.com/fAXpehrNhV

— Richard Bot Tuffin 💧🌈 (@RichardTuffin) January 31, 2018
THAT BEAUTY 😍

A #SuperBlueBloodMoon is seen over the summit of Mayon volcano in Ligao, Albay province on Wednesday. pic.twitter.com/NzNSAuQEg9

— The Philippine Star (@PhilippineStar) January 31, 2018
Partial lunar eclipse already starting. #SuperBlueBloodMoon (Photos by Joshua Eric Dandal) pic.twitter.com/IkseE68lCg

— The Philippine Star (@PhilippineStar) January 31, 2018
If you missed the #SuperBlueBloodMoon... we squeezed in one last shot on the Eyeopener before it set! #wcvb pic.twitter.com/CkoCZudJ60

— antoinette antonio (@antoinetteA) January 31, 2018