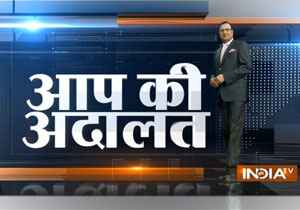 AAP KI ADALAT
Hosted by Mr. Rajat Sharma, Aap Ki Adalat is India's longest-running and by far the strongest running show on Indian television. The eventful journey of the show began in 1993 and is still going strong, attracting millions of viewers.
India TV celebrated the magnificent 21-year-long journey of Aap Ki Adalat in 2014, where top personalities like President of India Pranab Mukherjee, Prime Minister Narendra Modi, the three Khans viz., Aamir, Salman and SRK, graced the occasion. Politicians, cricketers and bureaucrats also joined in to celebrate the iconic feat.
Aap Ki Adalat has seen personalities ranging from Top Politicians, Bollywood Stars to Sportsmen and Spiritual Gurus being grilled on the small screen by Rajat Sharma in his own inimitable way. These prominent faces have poured out all sorts of emotions – some tried to browbeat, some defended their acts and some even shed tears!
A regular weekend feature on India TV, the show has consistently ruled television ratings for more than twenty years now. The truly unforgettable interview of Mr. Narendra Modi, just before the 2014 General elections, broke all rating records of TV news viewership. Attracting eye balls of 74 per cent of Hindi news television viewers in India is a feat never heard or seen before.