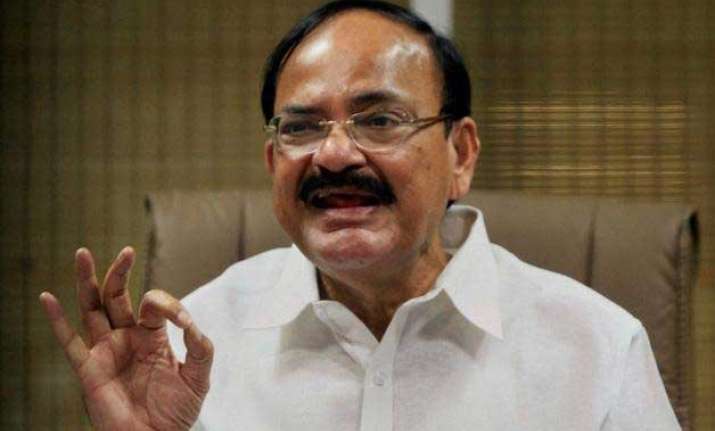 Hyderabad: Advocating a 'credit-rating' system for Urban bodies, Union Urban Development Minister M Venkaiah Naidu today said he had advised the southern states to adopt the system, on the lines of Maharashtra and Gujarat.
"The system (credit rating) is already there in Maharashtra and to some extent in Gujarat and it is yielding good results. I have suggested that the system can be introduced in the southern states," Naidu said, speaking on the sidelines of a workshop on 'Urban Governance' for municipal commissioners from the five southern states.  
"Credit rating does not happen in a single day. We have to motivate the people. We have to bring in the mindset of reforms. Then, credit rating can be given to towns.  "Credit rating means what is the revenue of the town, what is the expenditure, what are the plans and how to carry out development...Does it have the capacity to repay if loans are taken. That is called credit rating," he said.  
"Urban governance in municipalities in the country is not satisfactory. We are not able to provide basic facilities to citizens. Facilities like toilets, drainage system, and transportation are lacking. We need to put this before the people and discuss in the municipal corporations,"added Naidu.
"We need reforms....we need to digitise details on resources, revenues, assets (of municipal bodies). Centre would bear the expenses for digitalisation. Thus, revenues have to be improved. Taxes have to be levied where necessary.  Works have to be carried out by imposing taxes. Confidence should be created (among the people) that works will be done after levying taxes," the minister said.
Town planning laws should be changed and things such as solar lighting and solar roofing, rain water harvesting should be promoted, he said.
"Now, a new system of LED lights for streets has come.  There is no need to spend money on this. Companies are coming forward to install LED lights and they will collect expenses from the electricity bills. This is being done in Visakhapatnam...and also in the national capital.  
"A programme of converting five lakh street lights to LED has been taken up in Delhi without government having to spend a rupee. All municipalities need to make use of this opportunity," he said.
"What do we say if only 18 per cent of the people have toilets even after six decades of independence? So, we have to explain the facts to the people and because municipal commissioners are the key persons in this process, we called a meeting of municipal commissioners," Naidu said.