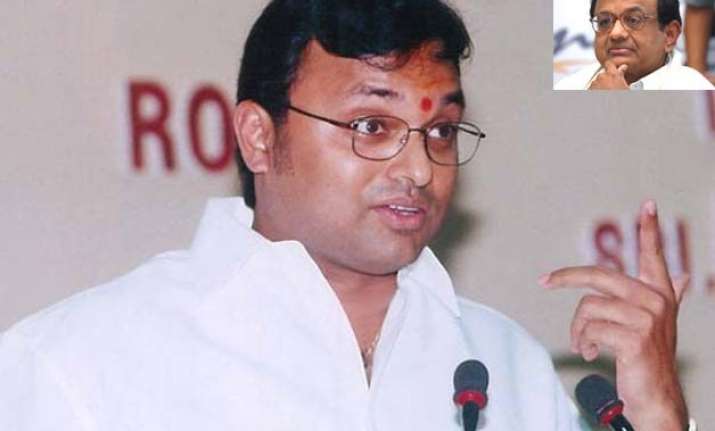 New Delhi: All India Anna Dravida Munnetra Kazhagam (AIADMK) members created huge uproar in both houses today demanding action against former finance minister P Chidambaram's son Karti's role in Aircel-Maxis and his massive overseas business empire.
Union Minister Venkaiah Naidu said that the issue raised by AIADMK members is grave in nature and the government is ready for a discussion on this matter. He asked AIADMK members to give a notice for the same.
According to a report by The Pioneer, Former Finance Minister P Chidambaram's son Karti has built a huge empire for himself in different parts of the world by making investment in real estates and engaging in other business activities in London, Dubai, South Africa, Philippines, Thailand, Singapore, Malaysia, Sri Lanka, British Virgin Island, France, USA, Switzerland, Greece and Spain.
The latest revelations have come from the documents recovered during the recent joint raids of the Enforcement Directorate and Investigation Wing of Income Tax in the Aircel-Maxis scam.
The raids were carried out at the offices of Karti situated in Chennai, Tamil Nadu last year in December.
It was found that he did transactions through Advantage's Singapore-based subsidiary Advantage Strategic Consulting Singapore Pvt Ltd.
The probe details coming out of the recent raids expose massive wealth acquired by Karti during 2006 to 2014 when his father was Finance Minister and Home Minister at the Centre.
The probe found that Advantage Strategic Consulting Singapore Pte Ltd. had acquired 88 acres at Surridge Farm in Somerset in the UK for one million Pounds in September 2011. It has investments in Artevea Digital Limited in Cambridge and has transactions with another London-based company Oppenheimer Investments (UK) Limited.
The report further says, Karti's Singapore Company had bought the majority shares of Lanka Fortune Residencies, a big resort in Sri Lanka that owns resorts such as 'The Waterfront', 'Weligama Bay Resort' and Emerald Bay Hotel.
The company had bought three farms and vineyards in South Africa, identified as Rowey Farm in Grabouw, Cape Orchards and Vineyards Private Limited, and Zandvliet Enterprises, a wine and stud farm in Ashton. The money to purchase these farms was routed via Dubai, the report says.
The Dubai-based Desert Dunes Properties Ltd had transactions worth 1.7 million Singapore Dollars with Karti's company and it is also said to have an investment in the company. Pearl Dubai FX LLC, another Dubai-based company also has financial transactions with the Advantage.
Advantage had entered into joint venture with Philippine companies such as SM Arena Complex Corporation, Sports Entertainment Events Management Inc and two persons from the Philippines – Juna Kevin and Haresh C Hiranand to get a franchise team of International Premier Tennis League (Asia).
The Advantage's Singapore unit has set up a firm in British Virgin Island (BVI), namely Somerset Surridge Ltd. The Advantage also invested 400,000 Singapore dollars in another BVI firm known as Full Innovations Ltd. It also has financial dealing with Geben Trading Limited in BVI and offices in Switzerland.
 The Karti-controlled company in Singapore has also entered into joint ventures with Gravitas Investments, Match Point International Tennis Events to buy a franchise Tennis team called 'Manila Mavericks'.
The investigators unearthed that this deal was worth of 12 million US dollars and the money was paid in 10 installments.
Karti's Singapore Company also had bought a residential flat in Malaysia worth 1.9 million Malaysian Ringgits. It also had many financial transactions with many Malaysian companies.
Malaysia is the head quarter of Maxis which acquired Aircel in an alleged deal in 2006, which is being investigated by the team, the Pioneer report said.
Karti defends himself, says business fully compliant with laws
Rejecting the charges of money laundering, Karti said in a statement, "One newspaper has made allegations against me, which have been adequately refuted in the past. Myself and my business are fully compliant with all laws and regulations."
He further defended himself saying that all the filings are up to date. "All statutory regulatory filings are completely upto date. That is all I have got to say."
"If I am compliant, I can't be money laundering," he said.