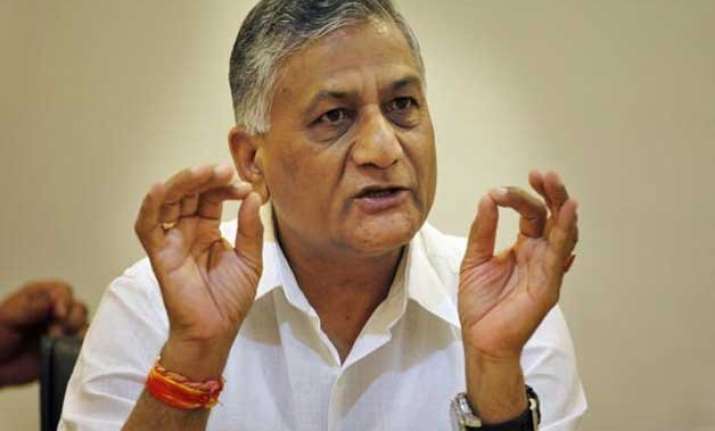 New Delhi: Former army chief and Union Minister V K Singh today told a Delhi Court that he was unable to trace the compact disk containing purported conversation between him and Lt Gen (retd) Tejinder Singh about an alleged bribe offer of Rs 14 crore made to him for clearing the Tatra truck deal.
V K Singh, now Minister of State for External Affairs, was represented by his lawyer, who told Special CBI Judge Ajay Kumar Jain that his client has received the notice issued by court for supplying the recorded conversation to Tejinder Singh, who was chargesheeted as accused by CBI in the case.
Advocate Atul Guleria, who represented V K Singh, said "my client is unable to trace the CD containing the recorded conversation between him and Tejinder Singh as he has shifted six different accommodations alloted to him by the government since the registration of case."
The counsel told the court that V K Singh was out of India on official duty overseeing the evacuation of Indians from Yemen and some time may be granted to him to inform the court about the CD.
The judge then asked Singh's counsel to file an affidavit regarding the CD so that case may proceed unhindered.
"Complainant V K Singh requests short time to file affidavit in compliance of earlier order to supply the CD of recorded conversation to Lt Gen (retd) Tejinder Singh as he is out of India for official purpose. Time granted. Put up for filing of affidavit and argument on charge on May 2," the court said.
The court had issued a notice to V K Singh asking him to comply with its earlier order to supply the alleged recorded conversation to the accused.
CBI had chargesheeted Tejinder Singh alleging that he had offered Rs 14 crore as bribe to the former Army Chief for clearing the file for purchase of 1,676 Tatra trucks at a cost of Rs 1193.04 crores.
Tejinder Singh has been chargesheeted for the offence punishable under section 12 of Prevention of Corruption Act.