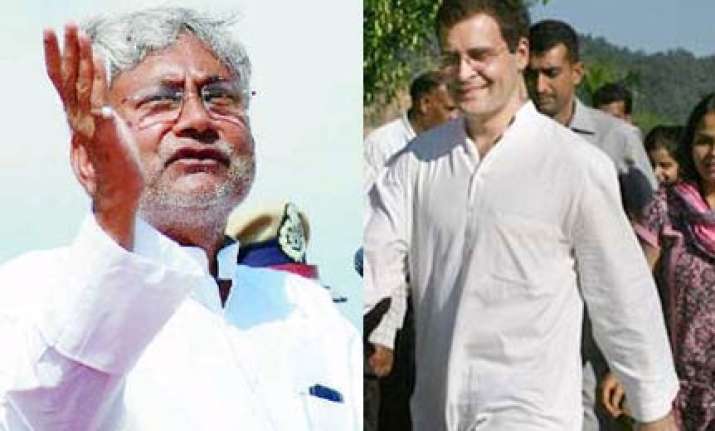 Bakhtiarpur/New Delhi, Nov 1: Hitting back at Rahul Gandhi who made allegations of corruption in carrying out development schemes in Bihar, Chief Minister Nitish Kumar today said the Congress leader should become a CM first before aspiring to be the prime minister.
"I have simple advice for Rahul Gandhi. Instead of giving lectures on development in Bihar, he should first become a chief minister to learn what governance is all about before aspiring to be prime minister," Kumar said after casting his vote in Bakhtiarpur, about 55 km from Patna.
In New Delhi, Congress reminded Kumar that Atal Bihar Vajpayee too became Prime Minister without being a Chief Minister and wondered whether the Bihar leader was questioning the competence of the BJP veteran.
"Even we are surprised at the statement of Nitish Kumar. Is he questioning the competence of Atal Bihari Vajpyee under whom he has served as a Union Minister for such a long time...even Vajpayee became the PM without serving as a CM of any state," Congress spokesperson Shakeel Ahmed told reporters.
Ahmed said Jawaharlal Nehru, Lal Bahadur Shastri, Indira Gandhi and Rajiv Gandhi are examples of Prime Ministers who were never Chief Ministers and are considered the best.
Another party spokesperson Manish Tewari said on governance and development, the Nitish Kumar government has been a "dismal failure".
In Bakhtiarpur, Kumar said, "We have heard much about his criticism of development in Bihar. We don't give much value to it."
On Rahul's allegations of corruption, he said "satar choohe kha kar billi chali haj karane (after eating 70 rats, the cat goes for Haj).
"Congress is the mother of all corruption be it the Bofors deal, CWG irregularities, 2G Spectrum or the Adarsh Society scam in Mumbai," he alleged.
Kumar also held the Congress responsible for the exodus of people from Bihar. PTI