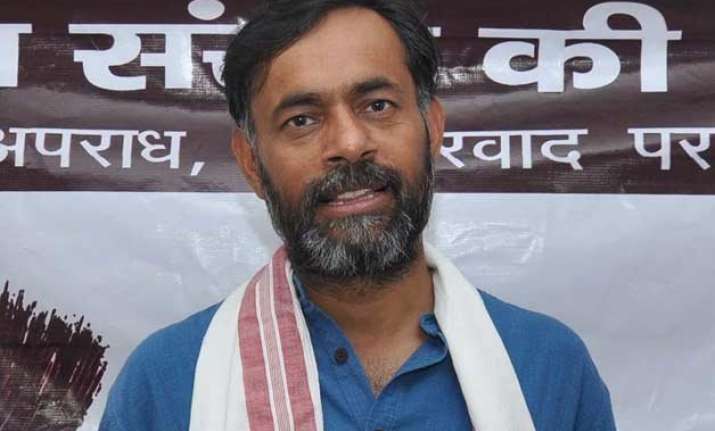 Chandigarh: Yogendra Yadav today launched a veiled attack on his bete noire and Delhi Chief Minister Arvind Kejriwal, saying "individualism" is democracy's enemy, days before his meetings to muster support of AAP volunteers.He also told his supporters to prepare for a "long journey".
"Vyaktivad loktantantra ka dushman hai (individualism is democracy's enemy)," Yadav said addressing over 200 supporters from Haryana and Punjab who had gathered at People's Convention Centre Hall in Sector 36 here.
Yadav, who will be holding another such meeting in Lucknow on Thursday to muster support of AAP volunteers, said that big changes can't be stopped by anyone.
"We will move ahead taking everybody along," he said. Yadav also asked the volunteers and supporters to respect voices of opposition and appealed to them not to raise slogans in favour of individuals.  He further told them to be prepared for long haul and remain true to the original spirit of the 'andolan'.  
The Yadav camp has claimed to have received an "overwhelming response" from 27 states for its April 14 convention to be held in Gurgaon in Haryana.
Yadav today asked his supporters and other volunteers to attend the Gurgaon meeting in large numbers, saying it is the beginning of a long journey.
Incidentally, Punjab and Uttar Pradesh have witnessed many state leaders being suspended by the AAP brass in an attempt to crack the whip on the dissidents within the party.
The Yadav-Prashant Bhushan camp is using social media sites such as Facebook, where it has garnered more than 5,000 likes, and Twitter to publicise the dialogue scheduled on Ambedkar Jayanti.
AAP has already warned of strict action against those attending the meeting.
Yadav and Bhushan were expelled from the party's National Executive along with Anand Kumar and Ajit Jha on March 28.
Notably, Yadav's rival faction also held a separate meeting here today, with AAP leader from Haryana, Navin Jaihind, insisting that Yadav's meet was "not an AAP workers meeting and it could have been his (Yadav's) personal meeting".
Meanwhile, Jaihind, who like Yadav unsuccessfully fought the last year's Lok Sabha elections, held a separate meeting of his supporters here.
Jaihind and some supporters, who also courted arrest as they tried to march towards the Raj Bhawan to meet Haryana Governor, were protesting frequent transfers of senior IAS officer Ashok Khemka, condemning the rampant "VIP culture", besides demanding immediate relief for the farmers whose crops had been damaged by recent rains and hailstorm in the State.
The local police detained them for a while after Jaihind and AAP workers attempted to march in large numbers towards the Raj Bhawan to meet Haryana Governor Kaptan Singh Solanki and submit a memorandum on the issues raised by them.
Jaihind also demanded action in the case of land deal involving businessman Robert Vadra.