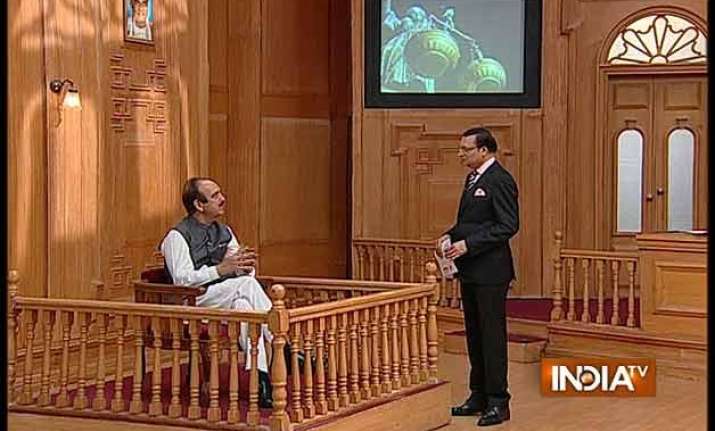 New Delhi:  Senior Congress leader and leader of opposition in Rajya Sabha Ghulam Nabi Azad has accused Prime Minister Narendra Modi of compromising on national interests to please China before he went there for summit talks with President Xi Jinping.
Replying to a volley of questions from India TV Editor-in-chief Rajat Sharma in his show 'Aap Ki Adalat', the veteran Congress leader said," UPA govt  had sanctioned the formation of a new  90,000 strong 'Mountain strike corps' with a sanctioned budget of Rs 46,000 Crore. It was aimed at  tackling Chinese incursions  In Arunachal Pradesh.  
"But this government curtailed its strength by 50 percent to ensure China does not get angry. "Azad further pointed out  that there were other occasions when Modi government and BJP compromised over matters relating to national interest and self respect just to please China.
"When Chinese President Xi Jinping visited India, Minister of state for Home Kiren Rijiju, who belongs to Arunachal Pradesh, was asked not to attend the dinner hosted by the PM for Xi Jinping to ensure that the Chinese President does not object to his presence.
" BJP President Amit Shah cancelled his scheduled meeting with Dalai Lama just before Modi's China visit to ensure Chinese don't feel offended," added Azad.
Azad contrasted Modi government's actions with those of Prime Minister Rajiv Gandhi who had taken a tough line on Arunachal Pradesh before his China visit of 1988.
" Before his China visit, Rajiv Gandhi had upgraded the status of Arunachal Pradesh from a Union Territory (UT) to full-fledged state without bothering about Chinese reaction. He did not allow the Chinese to even raise this issue." Azad also pooh-poohed the government's euphoric claims of sealing agreements worth $22 billion with China.
"China signed agreements worth $22 bilion with India but the same country signed agreements worth $ 46 billion with our enemy Pakistan just a month and a half back. So what is there to get euphoric over this agreement? I would have understood the excitement if China had signed agreements worth $100 billion with India," said Azad.
When asked to explain the rationale behind terming Modi government as "suit-boot ki sarkar", Azad said that it is related to Modi's monogrammed pinstriped suit that was auctioned for Rs 4.5 Crore.
"After PM Modi wore that pinstriped suit, we heard for the first time that there could be a suit worth Rs 4.5 Crore.  So it all started with that," said Azad.
On the controversial land acquisition bill, Azad said  Congress party had serious differences over the bill that this government is pushing.
"When a businessmen seeks land for a project, he seeks 200 acres even if he needs 10 acres. Once the construction starts coming up, the land prices go up 10 fold and the industrialist sells 90 % of the land at higher prices. That's why we had called for 70-80 percent consent of land owners with a compensation four times the market price. We had said that if the industrialist fails to initiates the project within 5 years then he'll have to return the land. This government has extended that to 10 years,"
When Rajat Sharma pointed out that the Prime Minister had assured that no favour will be done to businessmen through the land bill, Azad retorted by saying that the sentiments of Modi is not reflected in the bill.
Azad also pointed out that Congress has not objected to PM's foreign visits but to the language that he used for opposition during his foreign trips.
" He told NRIs that one year back you felt ashamed of being born in India but now you feel proud of India after BJP came to power. How could he say that?" wondered Azad.
When asked to explain why Congress was blocking all bills of Modi govt  in Rajya Sabha, Azad said that BJP was indulging in doublespeak on these bills.
"Who opposed FDI in insurance when we were in power? Who had opposed GST? In fact, they have not come up with a single bill of their own.   They are introducing our (UPA) bills with unnecessary amendments," said Azad.
Azad also ridiculed Govt's claims of 15 crore people opening their accounts and depositing Rs 5,000 Crore  under 'Jan Dhan Yojana' .
"95 percent people opened their accounts with the hope that they will get their share of Rs 15 lakh each that Modi had promised to them by bringing back black money within 100 days," said Azad.Azad also castigated Modi government for keeping crucial posts like CIC vacant for almost a year now.
" The govt claims  that there has been no scam in the first year of Modi govt but they have very clearly kept posts of CIC and Information commissioners vacant. 37a,000 applications are pending. Who knows these applications can unearth 1000 scams?" said Azad.
Aap Ki Adalat with Ghulam Nabi Azad will be telecast on Sunday at 10 am and 10 pm.