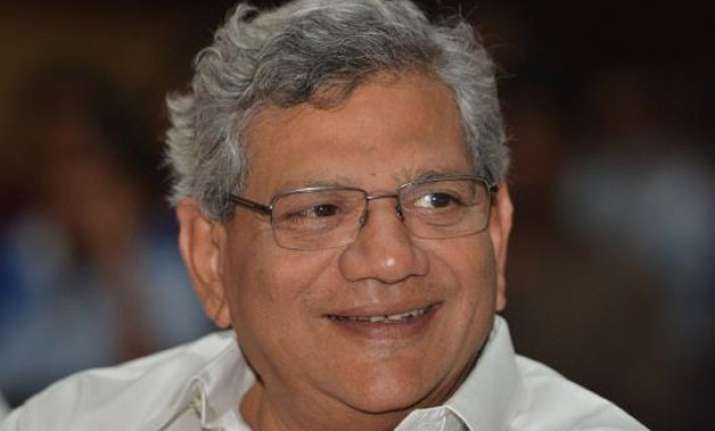 Visakhapatnam: The merger of Communist Party of India (Marxist) and Communist Party of India (CPI) will certainly happen in future though there is no time-frame for it, CPI(M) leader Sitaram Yechury said here today after being elected as the party's new General Secretary.
"Merger is still on cards. But, the first issue is to strengthen our party, based on which work for the unity of Left forces is to be undertaken, and again based on which mobilising Left and democratic forces together will be done," Yechury said.
"There is no time-frame for the merger. But we are trying for the merger to happen at the earliest. It may take two months or six months. But it will happen definitely and that is our determination and also promise," the 62-year-old leader said.
Yechury was unanimously elected to the top post at the party's 21st national congress which concluded here today. He is the fifth person to hold the post.
Replying to a query on the challenges before him, he said the challenges are to strengthen the party, building the unity of Left forces, and bringing the Left and democratic forces together.
"Our priority will be on how to move forward on the basis of our struggle against the economic policies that are imposed resulting in greater burden on our people, and the communal ideology which is dividing our country and the people," the new general secretary of CPI(M) said.  
The party today also elected 91 members of its central committee, besides five special invitees and as many permanent invitees (in the central committee). It also elected the 16-member politburo team to lead the party for next three years.
Earlier, addressing the CPI(M) meet, Yechury said this is the congress of future, future of our party and our country.
Yechury also said a plenum will be held by the end of the calendar year to review the party position and chalk out strategies to strengthen it independently.  
Terming issues such as "communal agenda, neo-liberal policies and move towards dismantling democratic pillars" of the present government as "Trimurthy", he said the party has to effectively combat these three forces, lest it would become "Trishul" and pierce into the heart of the nation.
"Our task is to strengthen unity of Left and democratic forces. The unmistakable conclusion of this congress is that the crisis in capitalism continues to deepen
in the world. There is no alternative except to strengthen the struggle for socialism. If there is any future for human civilisation, that future lies in socialism," he said.
Yechury also said the immediate task before the party was the fight against the Narendra Modi government's policies and "communal" agenda of the Hindutva forces.  Yechury's name for the post was proposed by outgoing general secretary Prakash Karat and seconded by senior party leader S Ramachandran Pillai.