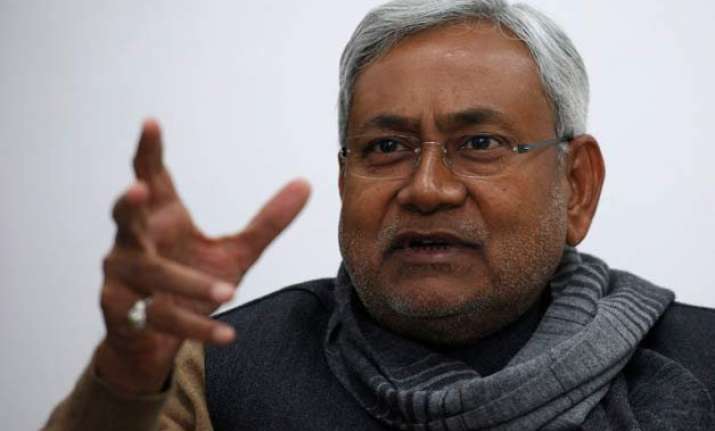 Patna: Describing RJD chief Lalu Prasad's announcement in favour of the merger of Janata Parivar splinter parties as "a solid and effective" step towards the process, Bihar Chief Minister Nitish Kumar today said a formal announcement will be made "much before the end of this month."
"All the constituent parties have made up their mind for the merger and the announcement will be made at a formal meeting to be convened by Samajwadi Party chief Mulayam Singh Yadav soon," Kumar told reporters while coming out of the Assembly.
Asked if the announcement would be made within this (April) month, Kumar said, "Very soon a formal meeting will be called where the announcement will be made."
Kumar, a prime mover of the merger process of the splinter parties into Janata Parivar, said he met Mulayam Singh Yadav who was authorised to oversee the unification process, and also JD(U) chief Sharad Yadav in this regard in Delhi before coming here in the today.
Asked when the formal meeting was expected, Kumar said the SP chief was authorised to call the meeting and so he would not speak about the date.  "But, keeping in view the availability of leaders, the meeting will be called soon," he said.
Asked about the decision of JD(U) on the merger, Kumar said the party has expressed willingness in its favour much earlier.
"We have rather travelled much ahead of it (taking decision in favour of the merger)," he added.
In reply to a question that has RJD chief Lalu Prasad put pressure on other constituent parties to hasten the process by announcing approval in favour of the merger, Kumar said it was not a matter of "putting pressure on anybody or party. These are formalities which every constituent parties have to undergo."
Hurrying up of the merger process was seen as an attempt by Nitish Kumar and Lalu Prasad to start preparations for the coming Bihar Assembly elections, which would be the first test of the move against the BJP.