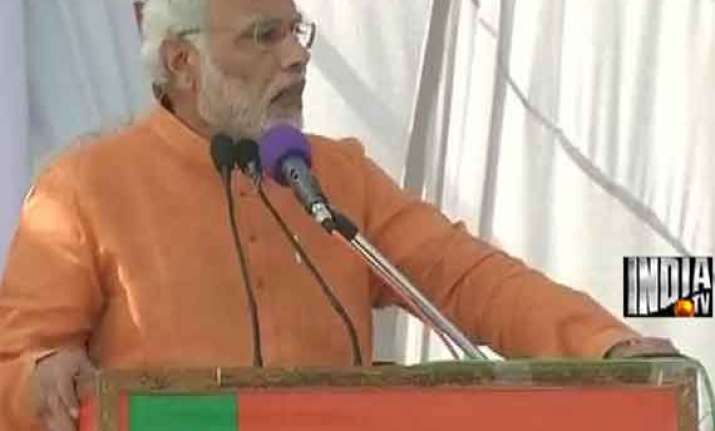 Jammu:  Gujarat Chief Minister and BJP's prime ministerial candidate Narendra Modi today oncegain raised the issue of Article 370 in Jammu and Kashmir and called for a debate on its utility.
Modi said that it should be it should be debated whether the constitutional provision has been beneficial for the state or not.
Addressing his first rally here after being named the BJP's Prime Ministerial candidate, Narendra Modi said his party wanted a discussion on various aspects of the issue. 
He echoed views expressed by BJP President Rajnath Singh, who earlier even told the 'Lalkar' rally that if Article 370 proved to be beneficial, his party would stand by the measure. 
Referring to the provision, Modi said that women had not been given equal rights in the state unlike in other parts of the country.
"If Omar (Abdullah) married outside Kashmir, his rights of being a citizen remain whereas his sister Sara loses the right for the same. Is this not discrimination against the women in the state," he asked, while referring to the Chief Minister's family.
Taking on the Centre for its China policy, the Gujarat Chief Minister claimed that China had been distributing free SIM cards to villagers along the border with India. 
"I want to ask whether our Telecom Ministry can't provide the same," he said.
Modi also spoke about "non-implmentation" of the 73rd Amendment providing financial powers to Panchayats and took a veiled dig at the ruling National Conference, saying, "Those who talk about autonomy are not ready to provide the same to their own elected local bodies."
He accused the state government of indulging in corruption and said the Prevention of Corruption Act is applicable everywhere other than Jammu and Kashmir.  
"For 60 years they talked about separate state (autonomy) but what did people get? Nothing and there is no accountability also...In the name of separate state, they encouraged separatism.
"It would have been better if they focused on creating a super state," he said.
Even though data show that the state had been receiving record number of tourists, the BJP Prime Ministerial candidate claimed that tourism in the state had been suffering.
"Tourism is suffering here. Tourists are going to Himachal Pradesh. Saundarya aur Shradha ke liye acha tourism hai yahan par (J and K is a good place for natural beauty and religious tourism)," he said.
Modi referred to Bollywood celebrating its 100 years and said, "A lot of films were shot here. Why could J and K not get a film institute? Sadly they are not interested in development and progress."
He also said that why can't the government consider a route to Kailash Mansarovar from Leh in order to boost the tourism in Ladakh region.
Earlier, BJP President Rajnath Singh told the rally that that his party would raise in Parliament the issue of the border agreement reached with China.  
"Recently Prime Minister Manmohan Singh visited China where he signed the Border Defence Cooperation Agreement which has many controversial clauses. One clause, as I am made to understand, is that border forces of either country would not tail each other if they inadvertently entered each other's territory," he said.
The BJP President said that the Prime Minister did not think of taking Parliament into confidence before entering into such an agreement.
"With the Parliament session starting from December 5, BJP will rake up this issue and demand a statement from the government," he added.
Speaking on the "discrimination" against the female folk, Modi said this is not an issue between Hindus and Muslims but a matter concerning 1.25 crore people of the state.  
"I want to ask those who advocate humanity why their lips are sealed over the denial of rights to female. Why they are silent over it?" he asked.
"I have not come to J&K to talk about Hindus and Muslims, but 1.25 crore people of the state. The politics of separatism has destroyed the country and if you have to register development it will be done by jointmanship," Modi said. 
"The money which is flowing into the state is being looted here and no accountability is fixed for that.
Separatism is being propagated and strengthened...," he said and lashed out at the Congress for failure to implement several central laws in the state.
Here we are giving you minute-by-minute updates of this rally: