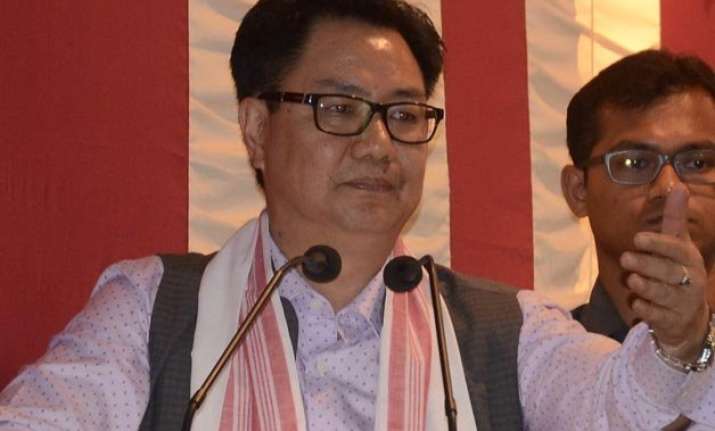 Aizawl: Minister of State for Home Kiren Rijiju described the statement recently made by MoS for Minority Affairs Mukhtar Abbas Naqvi on cow slaughter as "not palatable".
"I eat beef, I'm from Arunachal Pradesh, can somebody stop me? So let us not be touchy about somebody's practices," Rijiju said.
"This is a democratic country. Sometimes, some statements are made which are not palatable," Rijiju added.
Rijiju, who is on a two-day maiden visit to Aizawl after becoming Union Minister, said that while states having Hindu majority could enact legislation banning cow slaughter, it could not be imposed on north eastern states where majority of the people are eating beef.
He said that the cultures, traditions, habits and sentiments of all the people in the country should be respected and honoured.
"If a Mizo Christian says that this is the land of Jesus, why should someone have a problem in Punjab or Haryana? We have to honour the sentiments of each place and each location. If Maharashtra is Hindu majority, or if Gujarat is Hindu majority, Madhya Pradesh is Hindu majority, if they are to make laws which are conducive to the Hindu faith, let them be," he said.
"In our place, in our state, we are majority. Laws should be conducive to our beliefs. So they also should not have a problem with the way we live, and we also should not have a problem with the way they live," he added.
Last week, MoS for Parliamentary Affairs Mukhtar Abbas Naqvi asked all those who want to eat beef to go to Pakistan. He had said, "It is not about loss or profit... it is an issue of faith and belief. It is a sensitive issue for the Hindus."
"Those who are dying without eating beef, can go to Pakistan or Arab countries or any other part of world where it is available. Even Muslims are against it...," he said.