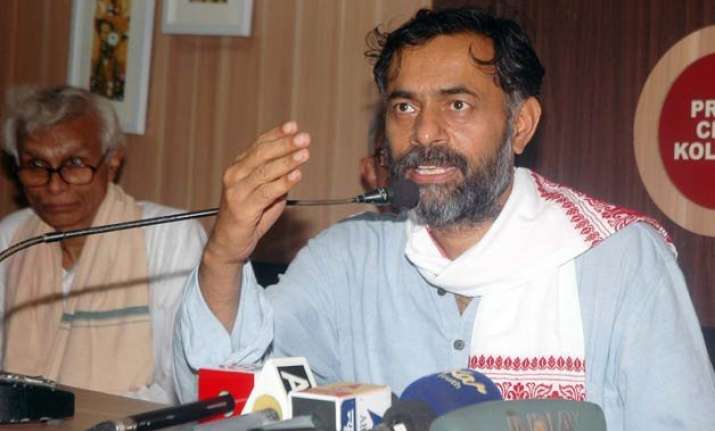 Ludhiana: Arvind Kejriwal's handling of the standoff between Delhi government and the Centre was very immature, former AAP leader Yogendra Yadav said today.
Strongly supporting the demand of full statehood for Delhi, Yadav said, "Such acts like locking the offices of senior officers can prove to be a set back to this demand."
Speaking at the state level convention of 'Swaraj Samvad' movement here, he claimed that law does not have any provision which empowers the elected government in Delhi to appoint or transfer officers.
I was shocked at Kejriwal's dictatorial attitude in the party which a large number of workers had brought to the fore with great enthusiasm and spirit, he said.
"AAP has also become a centralised party with unitary control. We are touring the length and breadth of the country to reactivate the party workers who feel cheated," he said.
Arvind Kejriwal-led Delhi government that completed an eventful 100 days in office today, had locked horns with the Centre over the appointment of senior bureaucrat Shakuntala Gamlin as acting Chief Secretary by the Lt Governor Najeeb Jung.
The Centre had issued a notification two days back giving absolute powers to the LG in appointment of bureaucrats and clarifying that he need not "consult" the Delhi Chief Minister on subjects like police and public order.
The former AAP leader also criticised the Modi government over the agrarian crisis.
"We would organise a farmers' protest march during the next Monsoon session to highlight their problems and commitment of the government towards them," he said.
Commenting on Prime Minister's foreign visits, Yadav said even though such trips were necessary but they should not be "exploited as a publicity stunt".