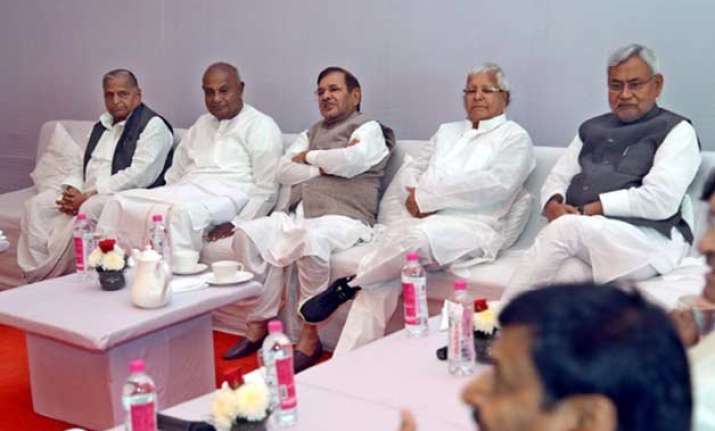 New Delhi: Rashtriya Janata Dal and Janata Dal (United) may not contest upcoming Bihar assembly elections together under unified Janata Parivar banner as there is a strong possibility that the merger may not be finalised by that time.
In two days, two leaders of Janata Parivar have commented that the effort to bring all erstwhile Janata Parivar players under single roof can not be completed before Bihar assembly elections because of some 'technical issues'.
A day after Samajwadi Party leader Ramgopal Yadav said that reunion of Janata Parivar outfits could not happen before the Bihar contest, RJD MP Prem Gupta also said the process of knocking the six parties -- Samajwadi Party, RJD, JD(U), JD(S), INLD and Samajwadi Janata Party -- into one has to be put on hold because of 'technical issues'.
On Sunday, Ramgopal Yadav said, "There is a technical problem. The problem is that if a political party tells the Election Commission that they are going to merge and form a new party, then the original name and symbols of the party will be frozen. The Bihar elections are near and the merger cannot be done in a hurry."
Yadav's comment was, however, was downplayed by Bihar Chief Minister and JD (U) leader Nitish Kumar saying, "A decision for merger of six parties in Janata Parivar has already been taken and there is no question of going back on it."
Kumar also said that there was no deadlock between his party and RJD as far as merger was concerned.
Yadav's comment was echoed by Gupta, a close associate of RJD boss Lalu Prasad who said, "There is unanimity that we need to come together to defend secularism. But there are technical issues like what happens to individual symbols of parties after they have merged into one. We have to factor those in."
Last month, the six parties announced their merger into a single entity to take on the ruling Bharatiya Janata Party (BJP). All parties have authorised Samajwadi Party chief Mulayam Singh Yadav to take a final call on the name and electoral symbol.