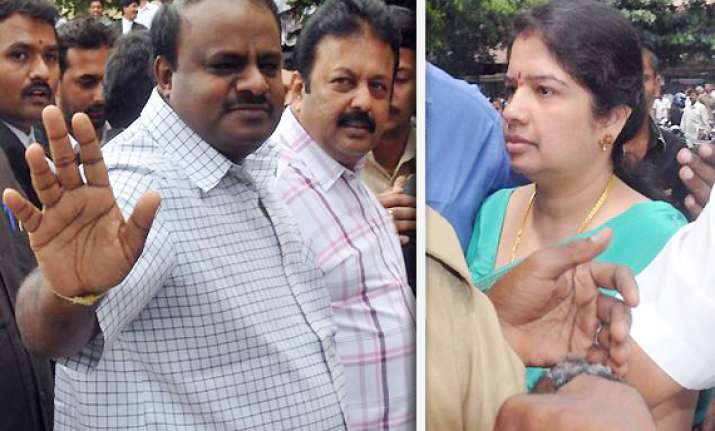 Bangalore, Oct 21: In a relief to former Chief Minister H D Kumaraswamy, the Karnataka High Court today quashed proceedings initiated against him and his wife in a lower court, terming the case against them as "politically motivated".

Passing the order, Justice V Jagannathan referred to an "unseen hand" behind the private complaint filed by an advocate, wondering how he secured the copies of communication between the then Chief Minister and his Political Secretary without applying under te Right to Information Act (RTI). 

The cases against Kumaraswamy and his wife Anita, JDS MLA, relate to renewal of mining lease to the Jantakal Mining Firm in violation of norms and alleged irregularities in allotment of sites to Vishwabharathi Housing Cooperative Society, which had made a quid pro quo site allotment to Anita, during Kumaraswamy's tenure as Chief Minister. 

Terming the cases as "politically motivated", the Judge said he would not allow misuse of Section 200 of CrPC (pertaining to private complaints) to unleash vendetta and to harass public persons, and imposed a fine of Rs one lakh on the complainant to be given to the couple. 

In addition, many of the copies submitted by the complainant are not certified, the Judge noted, and expressed the view that the Special Lokayukta Court had not applied its mind with regard to material placed before it.  Justice Jagannathan held that the bulk allotments were in tune with court orders, and observed that the complainant himself has admitted that Anita was a member of that Society much before the bulk allotment was made. 

Reacting to the High Court order, an elated Kumaraswamy, a Lok Sabha member and JDS state unit President, termed it "a victory of truth and dharma".

Kumaraswamy alleged that his fight against "certain illegalities" committed by BJP government landed him into "this situation" and there were attempts by some to tarnish his image.

Advocate Vinod Kumar had on August eight filed a complaint in the Lokayukta court, which had issued summons to Kumaraswamy and his wife.

The High Court had granted anticipatory bail last month to Kumaraswamy and Anita, after which they appeared before the lower court on September nine.