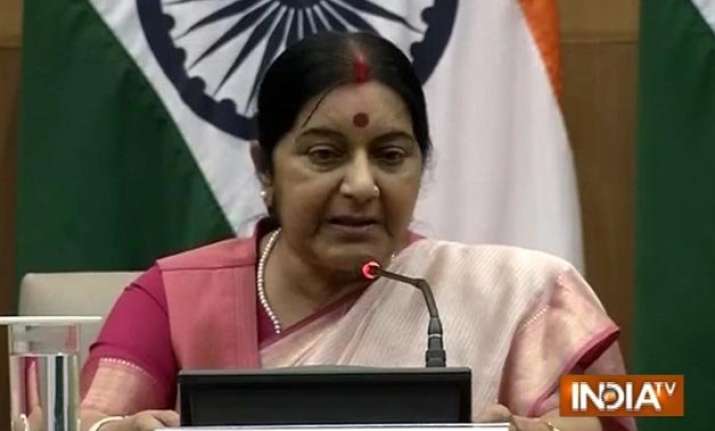 New Delhi: Union External Affairs Minister Sushma Swaraj today welcomed Geeta, who was stranded in Pakistan over a decade, on her arrival in India.
Addressing the media, Swaraj said that 'today is a very memorable day, our daughter Geeta is back in India'.
On 4 couples from different states claiming Geeta's as their daughter, Swaraj said, "We investigated these cases. We had decided that even if her parents are not traced, we will still get her back to India."
"We decided that even if we are not able to locate her parents we will keep her in an institution in Indore," Swaraj added.
Swaraj's reaction came in the wake of latest development when Geeta refused to recognize Mahto family from Bihar as her's after meeting them.
The Mahto family is not hers, Swaraj said, adding that 'still the authorities will do DNA test'.
Escorted by five members of the Edhi Foundation, Geeta arrived at the IGI Airport this morning.
Swaraj also thanked the Karachi based Edhi Foundation for taking care of Geeta.
"I am very very grateful to you (Bilquis Edhi) for taking care of Geeta in Karachi.  The Edhi family who have accompanied Geeta to New Delhi are India's state guests. The members of Edhi foundation are our honored guests and we will show them around Delhi. We will take them (members of Edhi foundation) to Ajmer Sharif, to Nizamuddin Auliya, wherever they want to go," she said.
Pakistan's High Commissioner to India, Abdul Basit, was present at the airport to welcome her. Basit will host Geeta and the Edhi delegation this evening.