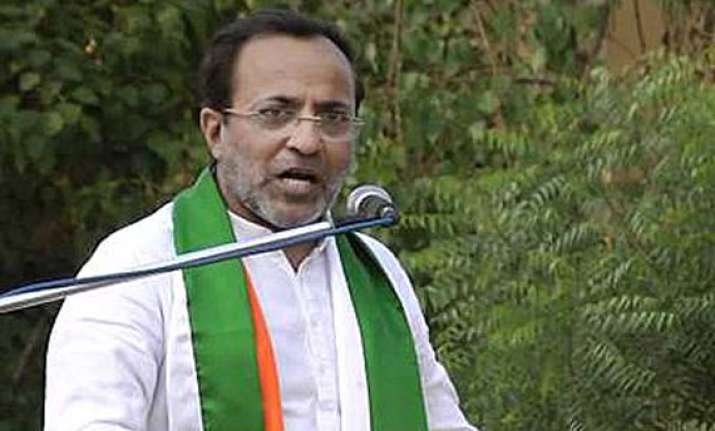 Vadodara, Nov 2 : For the first time in the campaign for the December assembly elections, Gujarat Congress leaders today targeted Chief Minister Narendra Modi over his personal life, asking him to clarify his marital status.
At a rally here this evening, Congress leaders also slammed Modi for his comment on the wife of Union minister Shashi Tharoor.
"Why does Modi not fill up the column on marital status in his election forms? Modi had married one Yashoda ben, and nobody knows whether he has divorced her," state Congress chief Arjun Modhwadiya said.
Expressing sympathy for the woman, Modhwadiya said the Modi must clarify his status regarding his marriage.
Another leader Shankarsinh Vaghela used the Gujarati proverb Khado khode te pade (one who digs the ditch falls into it), saying that Modi made a grave mistake by talking about Tharoor's wife.
"There was no need for Modi to launch personal attack on Tharoor," he said at the rally.
Yesterday Congress leader Digvijay Singh had also raised the issue of Modi's martial status.
At a poll rally in Shimla last Monday, Modi had dubbed Tharoor's wife as his "50-crore-rupee girlfriend".
Vaghela said he was confident of Congress coming to power in Gujarat as all sections of people including government employees had vowed to oust BJP.
He said several BJP leaders, including himself and former chief minister Keshubhai Patel, left BJP because of Modi, who neglected senior leaders to promote his own image.
Union minister Bharat Solanki alleged that the Modi-led BJP government used central funds of Rs 50,000 crore for setting up power projects and sold the electricity to other states for the benefit of corporate giants.
Construction of 20,000 km of Narmada canal lines in the state was incomplete, he alleged.