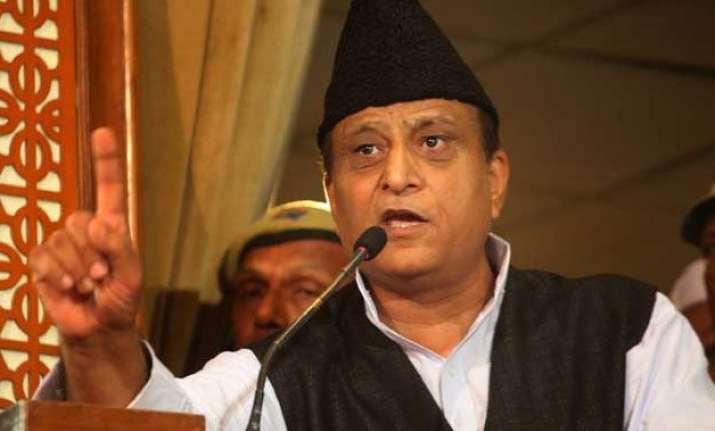 New Delhi: Uttar Pradesh Cabinet Minister Azam Khan today dared the BJP Central government to cancel the licenses of hotel serving beef and pork and demanded to enact law against cow slaughter in the country.
"Five star hotels should not be allowed to serve beef and pork to their customers in the country. The centre government should enact a law against such hotels and licenses should not be issued to those serving beef and pork" said the powerful minister of Akhilesh Yadav's cabinet while addressing a press conference today.
As state government cannot enact such law, so the responsibility lies with the central government, he pointed out.
Taking a dig at those calling for prevention of cow slaughter, Khan said "it was their responsibility to see that from now onwards the price of beef is not written in the menu of any five-star hotel."
Azam Khan pointed out that no one questioned former Supreme Court's justice Markandey Katju's remark that there's no harm in consuming beef "because he is not a poor Muslim".
It is worth a mention that the former Justice Katju while addressing Banaras Hindu University claims repeatedly that he consume beef, alleged Khan.
"Those who kill weak and punish innocents must question themselves as Justice Katju made the statement at a time when he was going to attend a seminar at the Banaras Hindu University," Khan pointed out.
While referring to the Dadari "beef killing" Azam Khan alleged that BJP was behind the incident and was trying to stoke communal tension in Uttar Pradesh.
Khan said he will write to United Nation about the injustice done to the Muslims in the country.
"I would like to tell you that Muslim community is being targeted and exposed to foul language and uncivilized behaviour. The human rights of Muslims are being violated and an environment of fear and insecurity is being created for them. Preparations to make India a Hindu nation are in full swing," Khan said.