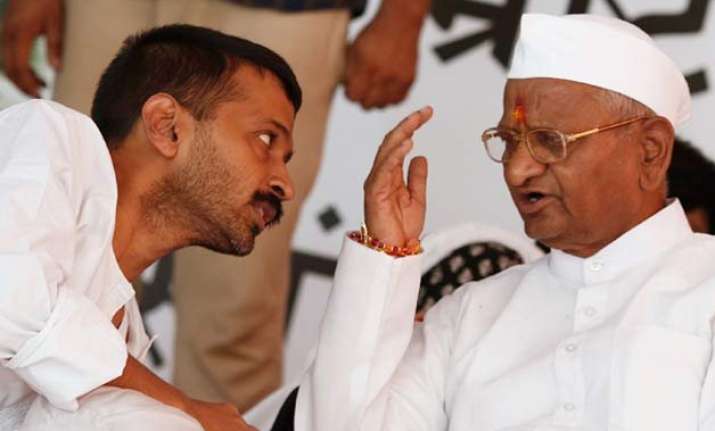 New Delhi: Anna Hazare, who shook the UPA government three years ago with his anti-corruption crusade, was back in the national capital.
He is on a two-day dharna in which Delhi Chief Minister Arvind Kejriwal will join him today to protest against Modi government's land ordinance, accusing it of being pro-corporate.
It is after almost three years that Arvind Kejriwal will join social activist Anna Hazare. This time they will protest against the Centre's land Ordinance. It will be Kejriwal's first protest after becoming chief minister.
On Monday, Kejirwal with deputy CM Manish Sisodia met Anna Hazare at Maharashtra Sadan. Later Sisodia announced that Kejriwal will participate in Anna's protest on Tuesday. "We discussed the Delhi election results. We also talked about the Land Acquisition Ordinance and how AAP could extend support to him (Hazare)," Sisodia said as reported by The Indian Express.
Senior AAP leaders said that while there was no "mass mobilisation", party volunteers and supporters will turn up in numbers at Jantar Mantar. "There is no need to mass mobilise because it is a one-day affair. If and when the jail bharo happens in four months, a decision will be taken then. But some supporters will be at the venue on Tuesday," a leader said.
In September 2012, the India Against Corruption (IAC) had split after Arvind Kejriwal, who was Hazare's lieutenant at the time, announced his intention of floating a political party. Hazare had refused to support Kejriwal's political ambitions.
Kejriwal, who had broken up with Hazare and formed his AAP, met the Gandhian after almost a gap two years and told him about his wish to participate in the dharna, probably a symbolic protest tomorrow afternoon.  
While Deputy Chief Minister Manish Sisodia parried questions whether Kejriwal would share the stage, Hazare had earlier said that AAP leaders were welcome to sit with the protesters.