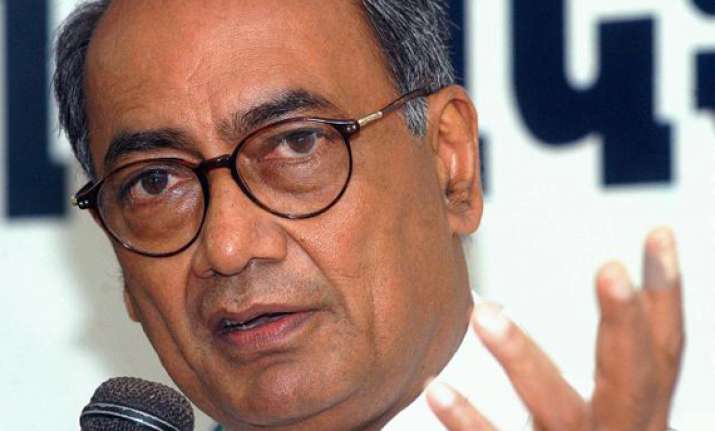 New Delhi, Jun 17: Reflecting his angst over ally Mamata Banerjee's dramatic rejection of UPA's Presidential nominees and her continued defiance, Congress leader Digvijay Singh today said there is a "limit" to which one can "bend" as certain eventualities have to be faced if they cannot be avoided.
He was replying to questions on Karan Thapar's Devil's Advocate programme on CNN-IBN as to whether Congress is ready to bend over backwards to prevent Banerjee's exit from the UPA if she chooses to leave the ruling alliance.  
The AICC general secretary at the same time made it clear that Congress on its own was not asking Mamata Banerjee to leave UPA and are "not throwing her out".  
"All efforts have been made to console her, accept her views, accept her tantrums...beyond a certain limit, the decision is hers...there is a limit to which you can bend to...there are certain eventualities, which if it cannot be avoided has to be faced," Singh said replying to questions as to what extent Congress will bend to stop Trinamool Congress from walking out of the alliance if she chooses to do so.  
Singh also said it was "very embarrassing" for party President Sonia Gandhi and Prime Minister Manmohan Singh that Banerjee not only rejected the names of both UPA nominees for President but joined hands with Samajwadi Party and announced three more names, including that of the Prime Minister when they "did not have consent of any of the three".  
Rejecting UPA's nominees Finance Minister Pranab Mukherjee and Hamid Ansari, Banerjee had in a joint press conference with SP chief Mulayam Singh Yadav announced names of the Prime Minister, former President A P J Adbul Kalam and former Lok Sabha Speaker Somnath Chatterjee on Wednesday, after she had a discussion with Gandhi on the issue.  
Digivijay Singh also felt that giving a second term to Vice President Hamid Ansari is "not a bad idea" and that offering Vice Presidentship to NDA to get its support for UPA's President candidate "looks unlikely".
Singh felt that the step taken by the "erratic" Banerjee was "extremely immature" and appealed to her that she should reconsider her decision and respond to the "magnanimity" shown by Pranab Mukherjee and support his candidature.  
"It was extremely immature and embarrassing not only for the Congress President but even to the Prime Minister...  certainly it was embarrassing for us because an ally after discussing with the UPA Chairperson came out and said we reject these two names and came out with three other names.  
"She pulled out these three names out of the hat and as the events had played out, it shows she did not have the consent of any of these three...It was not a mature thing to do...I am surprised they did this...we never expected that Mamata and Mulayam will throw names arbitrarily," Singh said adding that the Prime Minister was upset with all this.  
The AICC general secretary said the government handled the matter nicely and rejected the criticism that the whole issue was not properly handled asking, "who would have expected that Mamata will come out with names of those persons, who had not even conveyed their consent to contest."
To questions on why Banerjee resorted to such an action, Singh said that the Trinamool Congress chief "miscalculated".
"She has been erratic in some way...That isMamata...nothing is impossible, nothing is unexpected as far as Mamata is concerned" was his refrain to a volley of questions about Banerjee's behaviour.  He also felt that the Trinamool Congress chief continuing to back Kalam is a "mistake" which she should "avoid".  
The Congress leader said the SP chief is a "pragamatic political person" when asked why Mulayam Singh Yadav chose to change his mind soon after and support Pranab Mukherjee's candidature for the President's post".