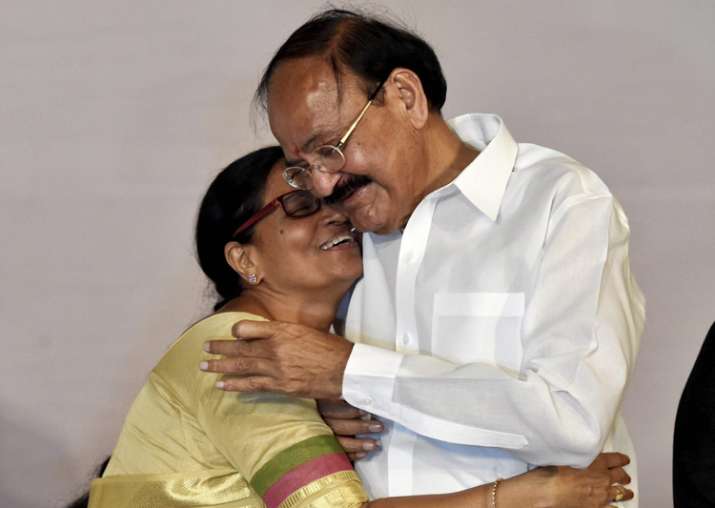 NDA nominee M Venkaiah Naidu was today elected the next Vice President of India, defeating opposition candidate Gopalkrishna Gandhi by a margin of 272 votes. Naidu secured 516 votes while Gandhi got 244 votes. Of the 771 votes polled, 11 votes were declared invalid.
Naidu, who will be the 13th person to hold the second highest Constitutional post, will succeed Hamid Ansari on August 10. The 68-year-old said that he was 'humbled by the honour bestowed on me by electing me to the office of the Vice President of India' by virtue of which he also becomes the Chairperson of the Rajya Sabha.
The strength of the electoral college comprising both elected and nominated MPs of Rajya Sabha and Lok Sabha is 790. While there are two vacancies in the LS, three seats are vacant in the RS also. One BJP Lok Sabha MP is barred from voting following a judicial pronouncement. 
Who said what: 
Ravi Shankar Prasad, Union Minister: Venkaiah ji is a leader of great elements. He knows the constitution, knows Parliament democracy. Above all, the transformation happening in India is very important.
Sharad Yadav, JD(U) leader: I convey my heartiest congratulations to Shri Venkaiah Naidu on his election as Vice President of India...he is good human being and a caring person and I am sure that he will prove to be a neutral and balanced Chairman of Rajya Sabha also.
Smriti Irani, Union Minister: Congratulations to Vice-President Elect M Venkaiah Naidu ji. We are confident his leadership would further enrich the Office of VP.
Yogi Adityanath, Uttar Pradesh CM: It is the positive thinking of Prime Minister Narendra Modi and BJP president Amit Shah that the country has got as the vice-president a leader who has always ably discharged his responsibilities.
Jitendra Singh, Union Minister: It is befitting of the aura, stature and the kind of goodwill and popularity that Venkaiah Naidu enjoys across the country. That is a pan India personality taking over the office of VP of India. We could not have had a better choice than that.
Rajyavardhan Singh Rathore, Union Minister: In a contest free and fair Venkaiah Naidu chosen for the chair Vice Presidential elections. Congrats India for our newly elected VP M Venkaiah Naidu! A dedicated, visionary leader & a true son of soil.
Siddaramaiah, Karnataka CM: Congratulations to Sri Venkaiah Naidu Ji for being elected as the country's 13th Vice President.
Pinarayi Vijayan, Kerala CM: Wishing him that he will be able to uphold secular and democratic values.
MK Stalin, DMK Working President: With vast experience in parliamentary procedures, I am quite confident that he (Naidu) will protect the plurality of our great nation.
I promise to uphold the Constitution and the high standards set by my esteemed
predecessors.

— M Venkaiah Naidu (@MVenkaiahNaidu) August 5, 2017
With all humility, I express my gratitude to every MP who supported my candidature cutting across party lines.

— M Venkaiah Naidu (@MVenkaiahNaidu) August 5, 2017
N Chandrababu Naidu, Andhra Pradesh Chief Minister: Congratulations to Sri M Venkaiah Naidu on being elected as the Vice President of India. A very well-deserved victory indeed. Wishing Sri Venkaiah Naidu a successful journey as he embarks upon his new duties. He will surely lead the nation with wisdom and grace.
Jaganmohan Reddy: YSR congress president: The YSR Congress party whole-heartedly supported Venkaiah Naidu and it is a proud moment to see a Telugu man as Chairman of the Upper House.
Amit Shah, BJP president: Heartiest congratulations to Shri M Venkaiah Naidu ji on winning the Vice-Presidential poll. The journey of Naidu ji, a farmer' son, to the office of Vice President is the victory of every small farmer contributing to nations growth. I am sure M Venkaiah Naidu ji's extensive knowledge and vast experience will be a great asset to the office of Vice-President & Rajya Sabha.
श्री @MVenkaiahNaidu जी को भारत के उपराष्ट्रपति निर्वाचित होने पर हार्दिक बधाई एवं शुभकामनाएं

— Nitish Kumar (@NitishKumar) August 5, 2017
Shivraj Singh Chouhan, CM of Madhya Pradesh: I congratulate Shri Venkaiah Naidu Ji for being elected as VP of India. My best wishes for fruitful tenure.
Rajnath Singh, Home Minister: I congratulate Shri Venkaiah Naidu on his election as Vice President of India. I wish him success in future endeavors.
Raman Singh, Chhattisgarh CM: He (Naidu) has been closely associated with Chhattisgarh, knew each party worker. Congratulate Venkaiah Naidu Ji for win.
Sonia Gandhi, Congress president: The position of the Vice President of India has the crucial challenge of assuming a non-partisan role in running 'The House of Elders', which acts as a store house of wisdom and sage advice for the government. House of Elders is an important determinant of our democratic functioning to address appropriate checks and balances.
Congress President Smt Sonia Gandhi congratulates @MVenkaiahNaidu on his election as Vice-President

— Congress (@INCIndia) August 5, 2017
Piyush Goyal, Union Minister: Today, we welcome Shri Venkaiah Naidu as the Vice President of India. A people's man; his roots & wisdom will take India to new heights.
Naveen Patnaik, Odisha CM: Congratulate Venkaiah Naidu ji on being elected VP of India. My best wishes for success in your new responsibilities.
Venkaiah Naidu, India's Vice President-elect: Coming from an agricultural background, I never imagined I would be here. Agriculture has no proper voice in Indian polity. I am very humbled. I am also thankful to the Prime Minister and all party leaders for their support. I will seek to utilise the vice presidential institution to strengthen the hands of the President and secondly uphold the dignity of the Upper House.
Mamata Banerjee, CM of West Bengal: Congratulate Venkaiah Naidu Ji, our next VP; wish him well. In tradition of democracy, Gopalkrishna Gandhi Ji fought with dignity for certain ideals.
Narendra Modi, PM of India: I am confident Venkaiah Naidu will serve nation as a diligent & dedicated Vice President, committed to the goal of nation building.
Gopalkrishna Gandhi, Opposition's VP nominee: I congratulate Venkaiah Naidu on his victory, wish him all the best for his new office. The election saw two victories - one of Naidu, another of free speech; the second victory belongs to all the people of India. I thank those who voted for me. I was expecting handsome performance by united vote of opposition parties and I am more than satisfied.
Ghulam Nabi Azad, Congress: Opposition will never compromise on ideology whether we face defeat or victory. Thank all those who voted against NDA.
Hema Malini, BJP MP: Everybody loves him (Venkaiah Naidu) a lot, he is most capable, he knows entire Parliament, the whole politics.