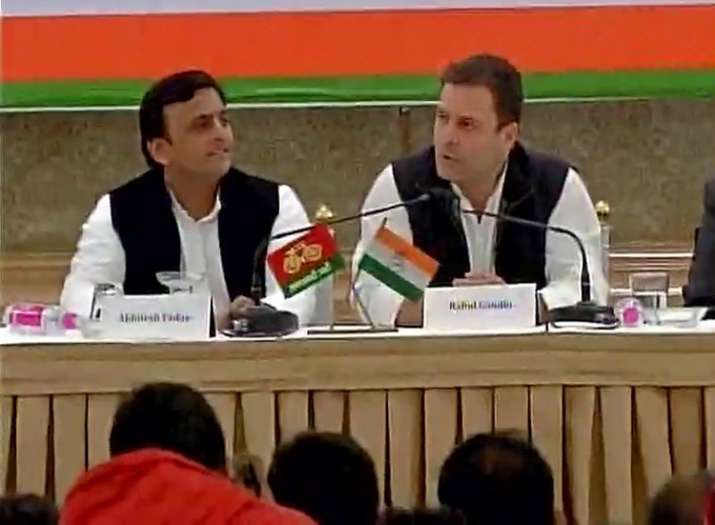 For the first time since their respective parties sealed a pre-poll alliance in Uttar Pradesh, Samajwadi Party President Akhilesh Yadav and Congress Vice President Rahul Gandhi today appeared together to set out for a joint campaign for the high stakes Assembly elections in the state.
A joint poster with the slogan 'UP ko yeh saath pasand hai' having the pictures of both Rahul and Akhilesh and their respective party symbols was also released on the occasion. 
Both leaders held a joint press interaction in Lucknow today and set off to hold a joint road show across the densely populated areas of the state capital. 
Here are the live updates: 
* The matter is sub-judice, whatever court decides will happen. The BJP brings out this issue before every election: Rahul Gandhi on Ram Mandir
* Ganga-Yamuna ek soch hai, ye jahan milti hain unko pehchana nahi jaata ki ye Ganga hai aur ye Yamuna, aisa alliance hoga: Rahul Gandhi
* Hum jaante the ki Akhilesh ji ka intention sahi tha, isiliye hum support karna chahte hain; RSS ka niyat saaf nahi hai: Rahul Gandhi
​* Ye alliance opportunistic nahi, dil ka alliance hai; Yahan pe hum Modiji, RSS ko samjhayenge ki is Pradesh ko nahi divide hone denge- Rahul
* This alliance isn't opportunistic, will explain to Modi Ji, BJP & RSS that UP and its people are one and we will not let them create divide: Rahul Gandhi
* Modi ji says "I am number one, no number two": Rahul Gandhi
* BJP ek Hindustani ko dusre Hindustani se ladati hai, unke ideology se India ko khatra hai, par Mayawati ke ideology se koi khatra nhi: Rahul Gandhi
* Mayawati ji ki personally respect karta hun; BSP ne UP mei sarkar chalayi aur kuch galti ki, par mera respect intact hai: Rahul Gandhi
* Priyanka has been of tremendous help to me, whether she campaigns or not is up to her: Rahul Gandhi
* Whether we will form an alliance in Lok Sabha or not is open to discussion: Rahul Gandhi
* Sab abhi bata denge to kya masala bachega?: Akhilesh Yadav on Congress-SP seat sharing in Amethi and Raebareli
* Haath ke saath cycle ho, cycle ke saath haath, toh sochiye raftar kitni hogi?: Akhilesh Yadav
* It is a historical alliance, it is a partnership b/w me and Akhilesh, Cong-SP to defeat fascist forces: Rahul Gandhi
* Campaign ki strategy toh main abhi aapko bataunga nahi: Rahul Gandhi on if Sonia Gandhi & Mulayam Singh will campaign
* Sardi dekhli, garmi dekhli, barsaat dekhli, kal ka manifesto bhi dekh liya, kisine acche din dekhein?: Akhilesh Yadav
* Hum UP ke yuvaon ko ek raasta dena chahte hain, nayi tarah ki rajneeti: Rahul Gandhi
* Hum chahte hain jo krodh RSS-BJP faila rahe hain or jhoothe vaade kar rahen hain usey rok sakein: Rahul Gandhi
* I hailed Akhilesh earlier too & pointed out that he was not being allowed to do good work: Rahul Gandhi
* We have similarities & differences too; we want to contest elections on similarities & will also have to make some compromises: Rahul Gandhi
* Maine kaha tha Akhilesh acha ladka hai, par usey kaam nahi karne diya jaa raha: Rahul Gandhi on if he believes in Congress' earlier slogan of "27 saal UP behal"
* Hum krodh ki rajneeti ko rokna chahte hain, isiliye alliance kiya hai ki hum milkar ladai karenge : Rahul Gandhi
* We are like two wheels of bicycle, not much difference in age between us; today is the beginning: Akhilesh 
* Rahul ji and I are like two wheels of a bicycle: Akhilesh Yadav
* 3P ki jo baat ki, 4th P main jodd deta hoon - ye People's alliance bankar ubhar ke aayega: Akhilesh Yadav
* This alliance will answer those who made the nation stand in queues: Akhilesh Yadav in Lucknow 
* Hum do pahiye hain or umar mein bhi zyada fasla nahi hai, vikas ka bhi pahiya hai aur khushhali ka bhi: Akhilesh Yadav
* Lok Sabha mei saath-saath rahe, hum ek dusre ko jante hain, ab khushi ki baat hai ki hum dono ko milkar kaam karna hai: CM Akhilesh Yadav
* In Modiji's words, this alliance means 3Ps-progress, prosperity and peace: Rahul Gandhi
* The alliance has made the personal and political relationship between Akhilesh and me better: Rahul Gandhi
* Alliance is confluence of Ganga & Yamuna out of which Saraswati of development will come out: Rahul Gandhi
Lucknow: CM Akhilesh Yadav & Cong VP Rahul Gandhi to hold joint press conference shortly pic.twitter.com/MznvWNvnDf

— ANI UP (@ANINewsUP) January 29, 2017
* Uttar Pradesh Chief Minister Akhilesh Yadav and Congress VP Rahul Gandhi arrive at the press conference venue.
The two top leaders were previously expected to make a joint announcement about the alliance on January 22, but later the two state chiefs Raj Babbar (Congress) and Naresh Uttam (SP) announced the deal jointly. 
Insiders said that joint rallies were also being planned by the two parties at a later stage. 
Dimple Yadav, MP and wife of the Chief Minister who is believed to have played a major role in cobbling together the alliance, is also likely to remain present besides senior leaders of both the parties. 
Under the seat-sharing pact, arrived at after hectic parleys between the two sides, Samajwadi Party has spared 105 seats for its ally Congress. 
The two parties were still haggling over some seats in Amethi and Rae Bareli, the parliamentary turf of Congress president Sonia Gandhi and her son Rahul but a likely announcement is to be made today where SP will give all the in both districts to its alliance partner. 
After the alliance was concluded, Akhilesh shared stage with a Congress leader in Lakhimpur Kheri district on Wednesday, the first such appearance of a Congress leader after announcement of the alliance. 
Akhilesh was effusive in his praise for the partnership, calling it a "winning combination" and that there was no doubt it would go on to form the next government with a majority. 
"The cycle (SP symbol) was alone, but now with the help of the hand (Congress symbol), its speed has increased," he had said, sharing the stage for the first time with Congress leader Prem Prakash Agarwal, who will contest from Bareilly. 
"Hand on cycle means 300 plus seats," Akhilesh had said. 
The alliance is believed to have upset the calculations of rivals BJP and BSP making the contest across the state triangular. 
Soon after the alliance was struck, Mayawati got the support of mafia-turned MLA Mukhtar Ansari whose party QED merged with the BSP to consolidate its Muslim vote bank in some constituencies of eastern districts where the Ansari brothers have their strong influence.