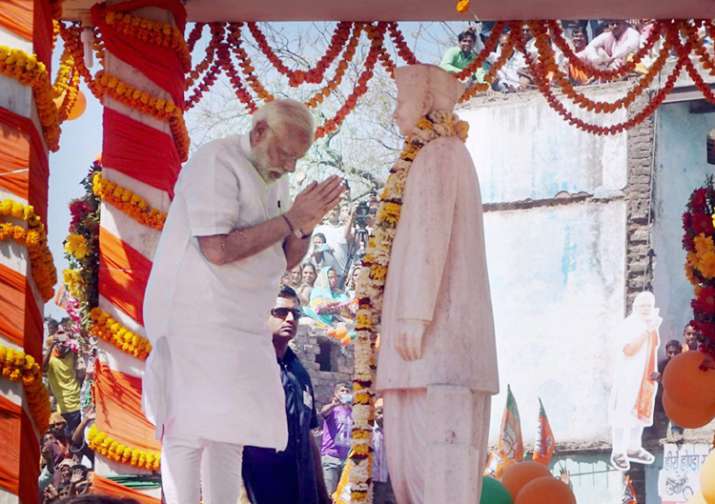 On the last day of two-month long campaigning for high-stake Uttar Pradesh Assembly elections, Prime Minister Narendra Modi today visited Garhwa Ghat Ashram here, which has considerable following among the backward castes, and paid tributes to former Prime Minister Lal Bahadur Shastri at his ancestral home. 
Modi, who has been canvassing for three days in the district which elected him to Lok Sabha, offered prayers and also fed the cows at the ashram's shelter. The visit came on the last day of campaigning in Uttar Pradesh. 
The head guru at the Garhwa Ghat Ashram has traditionally come from the Yadav caste and has followers spread across the poll-round region. Modi's visit is seen as an attempt to reach out to the Yadav community, which has traditionally aligned with the Samajwadi Party. 
The head guru offered his blessings and heaped praise on Modi. Though people expected Modi to make a brief speech but it did not happen and a senior party functionally said it was never planned. 
Modi has held a roadshow here and attended a number of public events in the city along with several rallies in the region as part of BJP's last push for a good show, particularly in the holy city, in the final phase when polling will be held in 40 seats on March 8. 
BJP sources believe that Modi's visit and his public felicitation by the ashram will send out "good signals" to voters, especially the OBCs and the Dalits. 
BJP is engaged in a keen fight with SP-Congress candidates in all the seats with the BSP also putting up a strong contest in a couple of them. 
Modi, who held a mammoth roadshow here followed by a rally as part of the campaign for the Uttar Pradesh Assembly elections, laid stress on building "a public movement for development". 
Modi visits Lal Bahadur Shastri's memorial 
Prime Minister Narendra Modi today paid tributes to Lal Bahadur Shastri at a memorial erected at the site where the former Prime Minister had spent early childhood. 
Modi, who has been campaigning in the city for three days, chose the last day to travel to Ramnagar township across the Ganges. The pathway leading to the Shastri Chauraha crossing, named after the late PM, was jampacked with supporters and admirers who had been standing there for hours. 
Chants of "Modi! Modi! reverberated through the air as the PM's cavalcade appeared. 
Modi got up from his seat inside his black vehicle and stood on the footboard, balancing himself with one arm entwined around the door frame and waving at the crowds with the other as the cavalcade trudged towards the statue of Shastri. 
After paying floral tributes at the statue, Modi headed towards the house where Shastri's father had lived until his death. Shastri was only two years old at that time. The family had then moved to Allahabad. 
Passing through a narrow alley, the Prime Minister covered a distance of a few hundred metres on foot amid chants of "Modi! Modi!" from the crowd before entering the premises which have now been converted into a small museum.
After paying floral tributes at life-size portraits of Shastri and "Bharat Mata", kept side by side, Modi went inside and had a look at the pictures adorning the walls wherein various episodes from the ex-Premier's life were depicted. 
He also enjoyed a song based on Shastri's life, sitting cross-legged on a mattress covered with a white sheet. 
Known for his love for music, the PM was seen clapping his hands and gesticulating with his head several times in appreciation of the rendition, made to the tune of tabla and harmonium. 
As he left for his onward journey, many of the residents gushed that this was the first time that a Prime Minister had paid a visit to the house of Shastri, who is revered for his honesty and integrity and leadership during the 1965 Indo-Pakistan war. 
Talking to PTI over phone, Shastri's maternal grandson and BJP national secretary Siddharth Nath Singh said, "I cannot find enough words to appreciate what the Prime Minister has done. My grandfather was a Congress leader but the party never gave him his due". 
"My grandmother had made a request to the then Congress government 40 years ago that the house, which Modi visited today, be made a museum so that people may visit the place and feel inspired. 
"The proposal saw the light of the day only when Atal Bihari Vajpayee became the PM," Singh said. 
"Today, Modi has moved a step further in the direction of acknowledging our unsung heroes and recognizing their contributions," Singh said in a voice choked with emotion.
Modi makes impassioned plea to voters at final UP rally
Prime Minister Narendra Modi today made an impassioned plea to voters to defeat SP-Congress combine and BSP, blaming these parties for the plight of Uttar Pradesh, as he wrapped up his hectic campaign for Assembly polls.
Addressing a rally at Khushipur village in Rohaniya assembly segment, 25 kms from the city, Modi, who has been campaigning in his Lok Sabha constituency here for three days, repeated the promise of waiving farmers loans and restoring professionalism of the police force if BJP comes to power in the state.
Describing himself as a person who "has experienced poverty and therefore wants to improve the lot of the poor", the PM said his government was aiming at providing houses to every single household in the country by 2022, when the country celebrates 75 years of Independence.
Modi began his 45-minute-long speech with a special mention of Apna Dal and Bharatiya Samaj Party, which are fighting 20 of the 403 seats in UP in alliance with the BJP.
Apna Dal enjoys a following among Kurmis, the most dominant OBC group after the Yadavs, while Bharatiya Samaj Party is a breakaway group of Bahujan Samaj Party floated by Mayawatis erstwhile loyalist Om Prakash Rajbhar.
Stressing that the countrys economy heavily depended on the betterment of farmers and improvement in their purchasing power, Modi said his government was also bringing in measures to ensure that incomes of those involved in agriculture doubled by 2022.
He also spoke about a scheme whereby five crore poor families in the country were to be given free gas connections by 2019.
Coming down heavily on the Akhilesh Yadav government, Modi said that in BJP-ruled states 50-60 per cent farmers were covered under his Pradhan Mantri Phasal Beema Yojana but in UP only 14 per cent agriculturists were benefiting from the crop insurance scheme.
Lambasting the SP government in the state for "nepotism and corruption" in competitive exams, the Prime Minister said, "I took the decision to do away with interviews for recruitments at lower levels. This was aimed at curbing malpractices.
"But Akhilesh Yadav is not willing to take a cue as he wants jobbery to flourish."
Modi said the people of UP "should beware of both bua and bhateeja (aunt and nephew ? terms used by Mayawati and Akhilesh to describe each other)". He asserted that only BJP could restore law and order in the state where "women are afraid to go out of their homes unless accompanied by a male member of the family".
Voting for the seventh and final phase will take place on March 8 and declaration of results is on March 11. 
Referring to the festival of Holi, which falls on March 13, Modi urged the people of Kashi to cast their votes judiciously so that "Holi may be celebrated in UP on March 11, two days ahead of schedule". 
The PM's speech was, on one occasion, interrupted for a couple of minutes when he was distracted by a number of youths who were heartily chanting "Modi! Modi!". The PM asked them to keep quiet and jocularly told camerapersons shooting the rally "do not focus your lenses on them". 
Modi spoke at length about his government's pro-poor and pro-farmer initiatives, which included soil health cards which he compared to "pathological tests advised by physicians before prescribing medicines". 
"We are ensuring that certified, good quality seeds are made available to farmers so that they do not end up buying sub-standard ones from the black market and ruin their own fields. 
"To those farmers whose water pumps have worn away, we are providing new ones free of cost," he said.
(With PTI inputs)