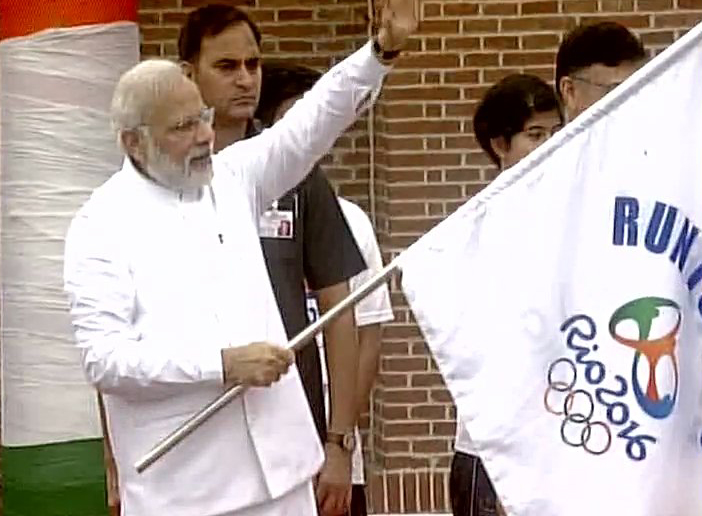 Prime Minister Narendra Modi on Sunday said the country should start preparing for 2020 Tokyo Olympics and will send a contingent of over 200 players, up from this year's 119 athletes.
"I appeal to all the districts in India to prepare at least athlete for the next time. This time 119 players are going, we resolve to send over 200 players to Tokyo in 2020 today" PM said before flagging off 'Run for Rio' event at Major Dhyanchand National stadium in Delhi.
"During our term in office so far, we have focused tremendously on sports. Our government will do whatever it can to boost sports in India. All my wishes and that of this country are with the Indian contingent at Rio Olympics. I hope they will make us proud and hoist the flag of our country even higher," Modi said during his short address to runners at the event.
"Every player has worked hard to get here, they will surely give their best. I am sure our athletes will win hearts the of the world and will show the world what India is about" he added.
Highlighting the efforts made by the government for the players in Rio, PM said, "We have made special arrangements for our players this time. We have taken care of everything this time, including the food they like to have and the food they should have."
"This time we are sending the contingent in advance, so that players get familiar with local conditions," he said.
"We allotted special budget for their diet, training this time around," he said, adding that players were asked where and under whom would they like to be trained and all arrangements were made for every selected individual with government spending from Rs 30 lakh to Rs 1.50 crore on a player.