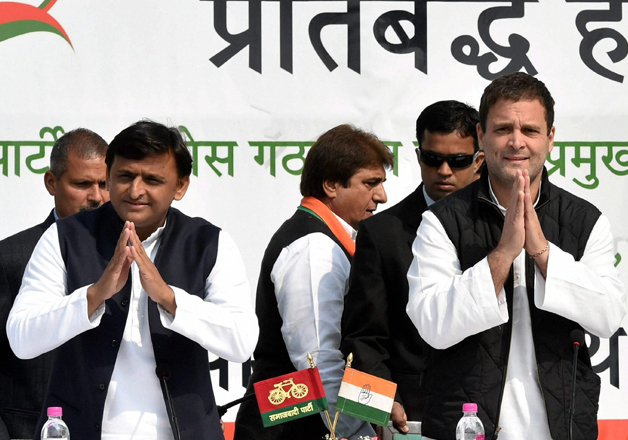 Congress vice-president Rahul Gandhi today ridiculed Prime Minister Narendra Modi for 'peeping into others' bathrooms' and said he was a complete 'failure' at the job.
"The Prime Minister is fond of Google searching, peeping into others' bathrooms. Let him do that in his free time but his main job is that of a Prime Minister in which he has been a cent per cent failure," Rahul said while addressing a joint press conference here with Uttar Pradesh Chief Minister Akhilesh Yadav here. 
Rahul's jibe come a day after the Prime Minister, while campaigning in the poll bound state, mocked the Congress leader for being the 'most joked about politician'. 
The Prime Minister had earlier attracted the wrath of the Congress over his 'bathing wearing a raincoat' barb at his predecessor Manmohan Singh. 
"The country's biggest problem is lack of jobs. Modi promised two crore jobs but has not fulfilled even one per cent of his promise. Modi talks a lot about security, terrorism and surgical strikes," Rahul said. 
"But the result is we have suffered most number of casualties in the last seven years. Over 90 of our security personnel have been killed," he said while referring to the Indian Army's September 29 surgical strikes on terror launch pads in Pakistan occupied territory. 
"The Prime Minister is apprehensive of Uttar Pradesh polls result. The result will give him a big shock, will put a question mark on his credibility. That is why he is saying such things," he opined.
Meanwhile, Akhilesh and Rahul today released a Samajwadi Party-Congress alliance's Common Minimum Programme (CMP) to the people of state.
In a joint press conference in Lucknow, the leaders released the list of 10 commitments to the people of Uttar Pradesh, which includes smart phones, skill development, free cycles and homes for the poor.
The duo offered free smart phones, 20 lakh youth skill training, loan waiver for farmers, cheap power to farmers, 33 per cent reservation for women in government jobs.
"We want a young and visionary government for Uttar Pradesh," Rahul Gandhi said.
"In the two and a half years (Prime Minister Narendra) Modi has failed. Demonetisation, surgical strikes are avoidance tactics," he added.
Akhilesh said: "If Modi visits Agra-Lucknow Expressway even he will vote for SP-INC. PM and BJP should not mislead people and come forward
and tell what they have given to the state which has elected all prominent NDA leaders: Akhilesh."
When Rahul was asked about differences among candidates on few seats, he said, "On 99 per cent of 403 seats no problem. Issues being resolved on remaining seats...we are fighting polls together...wrong to say no coordination in alliance."