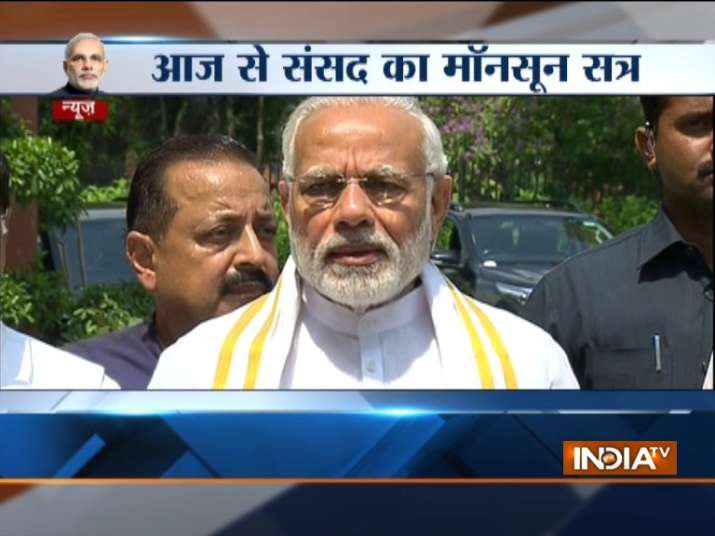 Prime Minister Narendra Modi's appeal to Opposition parties to have a meaningful discussion on issues of national interest during the Monsoon Session of Parliament which began on Wednesday (July 18) had little impact on  Opposition Lok Sabha MPs as they resorted to sloganeering as soon as the House convened. TDP MPs were seen shouting 'we want justice' despite Speaker Sumitra Mahajan requesting them repeatedly to sit and let the House functions. The Lok Sabha Speaker later accepted the no-confidence motion by the Opposition against the Modi Government. The date and timing of discussion over the no-confidence motion will be decided later, Sumitra Mahajan said.
Opposition leaders demanded Question Hour to be adjourned and discussion to be held over issues like mob lynching, however, Sumitra Mahajan told them that there will be no deviation from the routine of the House and discussion on any topic would be held after the Question Hour. 
Earlier, interacting with journalists before entering Parliament building to attend the Monsoon Session, Prime Minister Narendra Modi  urged the political parties to utilise maximum time available in Parliament's monsoon session and said the government is ready to debate on any issue in the house.
"Welcome everyone to the monsoon session of Parliament. Lots of issues have to be discussed. I expect all the political parties to cooperate and let the session function smoothly," Modi said.
"The government is ready for discussion on all issues," the PM said. He also urged all political parties to make most use of time in monsoon session and asked them to set an example for the state assemblies.
Also read |  Lok Sabha to discuss no-confidence motion on Friday, BJP leaders say 'we are ready'
As it Happened:
02:05 pm: "Who says we don't have the numbers. We have the numbers, we are not worried," Sonia Gandhi tells journalists when asked whether the Congress-led Opposition has required numbers to win the no-confidence motion against Modi government. 
01:51 pm: Discussion on no confidence motion moved by Opposition against Modi government to take place on Friday, July 20, in Lok Sabha. 
01:15 pm:  No confidence motion against the Modi government was moved by:
1)Kesineni Srinivas (TDP)
2) Thota Narismhan( TDP)
3 ) Tariq Anwar(NCP)
5) Mohd Salim (CPM)
6) Mallikarjun Kharge (INC)
7)K C Venugopal (INC)
8) N K Premchandran (RSP)
12:45 pm: Shashi Tharoor's allegations are unfortunate. In Kerala, CPM workers are resorting to violence and it shouldn't be blamed on the BJP workers, Parliamentary Affairs Minister Ananth Kumar responds to Shashi Tharoor's charge.
12:35 pm:  It (attack on his office) wasn't only an attack on constitutionally provided office but larger attempt by ruling party to destroy idea of India and accepting pluralism. Swami Agnivesh was also attacked. We shouldn't stand by as mob lynching and hooliganism rule democracy: Shashi Tharoor says  in Lok Sabha
12:17 pm: Lok Sabha Speaker Sumitra Mahajan approves no-confidence moved by Opposition. Time and date of discussion over no-confidence motion will be announced later by the Speaker.
11:35 am: Rajya Sabha adjourned till 12pm after protest by TDP MPs over special status demand for Andhra Pradesh.
Nominated Rajya Sabha MP, boxer MC Mary Kom arrived at Parliament earlier today for #MonsoonSession. pic.twitter.com/klyR0gF5tH

— ANI (@ANI) July 18, 2018
11:20 am: The Opposition is demanding that the Question Hour be adjourned. 
11:15 am: Opposition members raise slogans inside Lok Sabha even as Speaker Sumitra Mahajan requests them to let the House function.  Opposition MPs raising "We want justice" slogans inside Lok Sabha.
11:04 am: New members of Lok Sabha, Rajya Sabha taking oath on the first day of Monsoon Session of Parliament.
Classical Dancer Sonal Mansingh, Author Rakesh Sinha and Sculptor Raghunath Mohapatra take oath as nominated members of Rajya Sabha. #MonsoonSession2018 pic.twitter.com/umbj8OiSfx

— ANI (@ANI) July 18, 2018
11:02 am: Monsoon Session of Parliament convenes. 
10:55 am: May the productivity of the forthcoming session and the rich levels of debate also become a source of inspiration for the various state assemblies: PM Narendra Modi at the start of Monsoon Session of Parliament.
10:43 am: I hope the Monsoon Session is a productive one and the time is properly utilised to discuss important matters.The government is ready for discussion on every issue on the floor of the House, says PM Modi.
Any member, any party can raise any issue, we are all ready for proper discussions: PM @narendramodi at the start of the Parliament session

— PMO India (@PMOIndia) July 18, 2018
10:29 am: 
External Affairs Minister Sushma Swaraj and Home Minister Rajnath Singh arrive in Parliament. #MonsoonSession pic.twitter.com/1CS586pC31

— ANI (@ANI) July 18, 2018
10:22 am: TDP president and  Andhra Pradesh CM Chandrababu Naidu holds teleconference with party MPs present in New Delhi to attend Monsoon Session of Parliament. "BJP betrayed us by not fulfilling the promises made to us. Coordinate with non-BJP, non-Congress parties and go forward," Naidu directs TDP MPs.
10:10 am: PM Narendra Modi to reach Parliament shortly. He is likely to address both Houses of Parliament on the first day of Monsoon Session.
10:05 am: CPI MP D Raja has given adjournment motion notice in Rajya Sabha over cases of mob lynching and attack on Swami Agnivesh.
09:59 am: RJD MP Jay Prakash Yadav moves adjournment motion in Lok Sabha over mob lynching issue.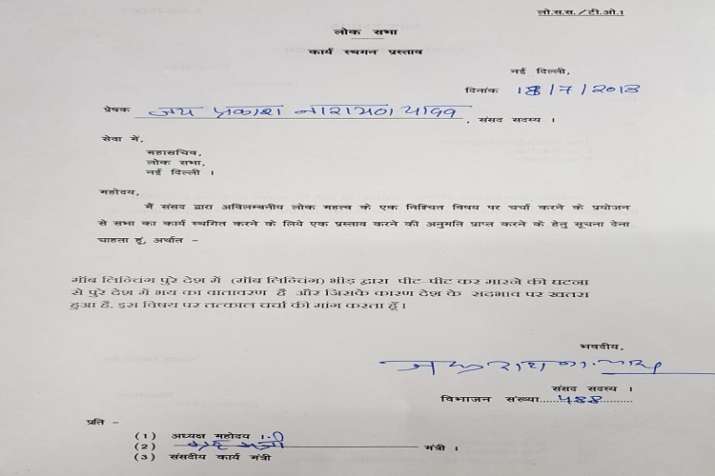 09:45 am: Trinamool Congress gives Zero hour notice in Rajya Sabha over mob lynching issue. The Monsoon Session of Parliament is scheduled to begintoday.
Leader of the Congress in the Lok Sabha Mallikarjun Kharge said they will demand grant of special status to Andhra Pradesh, apart from raising issues such as lynchings, atrocities against women and Dalits and dilution of a law meant for SCs. He said that attempts to abolish reservation policy and the falling value of the rupee will be also be raised in the session. 
The Congress is also expected to raise the issue of mob lynchings, unemployment, farmers distress, women safety, alleged tampering of EVMs, the situation in Jammu and Kashmir and the government's foreign policy during the Monsoon Session which will conclude on August 10.
Major Bills to be taken up during Monsoon Session
Meanwhile, the government has has listed a substantive legislative business for the session. This includes 48 items including 46 Bills and two financial matters. The bills prioritised by the government include The Muslim Women (Protection of Rights on Marriage) Bill or the anti-instant triple talaq bill and The Constitution (123rd  Amendment) Bill, that gives Constitutional status to the National Commission for Backward Classes.
Watch: Monsoon Session of Parliament from today