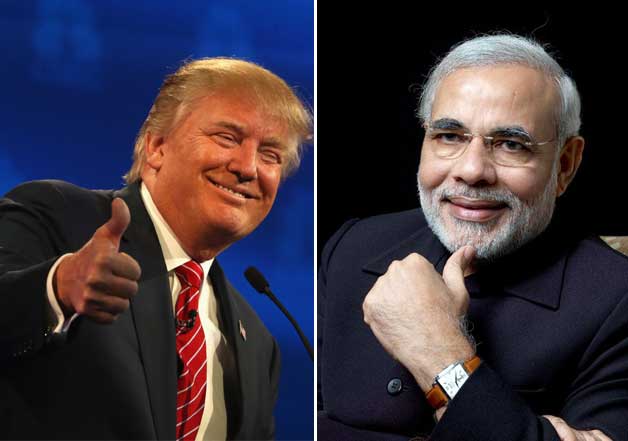 US President Donald Trump called up Prime Minister Narendra Modi on Monday evening and congratulated him for leading the BJP to victory in recently concluded Assembly elections including the saffron party's landslide win in Uttar Pradesh.
The BJP alliance won a massive 325 seats in the 403-member UP Assembly. The party also swept elections in the neighbouring Uttarakhand.
PM Modi's party also succeeded in forming governments in Goa and Manipur despite being placed at number two in seat tally in both the states.
"The president spoke with German Chancellor Merkel and Indian Prime Minister Modi earlier today to congratulate them on their parties' success in recent elections," White House Press Secretary Sean Spicer told media persons. 
It was for the second time that Donald Trump called up PM Modi since his inauguration as US President on January 20 this year.
President Trump had last called up PM Modi on January 24 and the two leaders resolved to stand "shoulder-to-shoulder" in the global fight against terrorism and for defence and security. 
Prime Minister Narendra Modi was the fifth foreign leader President Trump had spoken to on phone after he was sworn-in as the US president.
Prior to his telephonic conversation with PM Modi, President Trump had only spoken to British Prime Minister Theresa May, Canada's Justin Trudeau, Mexican President Enrique Pena Nieto, Israeli Prime Minister Benjamin Netanyahu and the Egyptian President Abdel Fattah el-Sisi. 
In a statement issued after Modi-Trump telephonic conversation on January 24, the White House said that Trump had "emphasised that the US considers India a true friend and partner in addressing challenges around the world."
Prime Minister Narendra Modi was among first world leaders to congratulate Donald Trump on his surprise victory in November 8 US presidential elections.