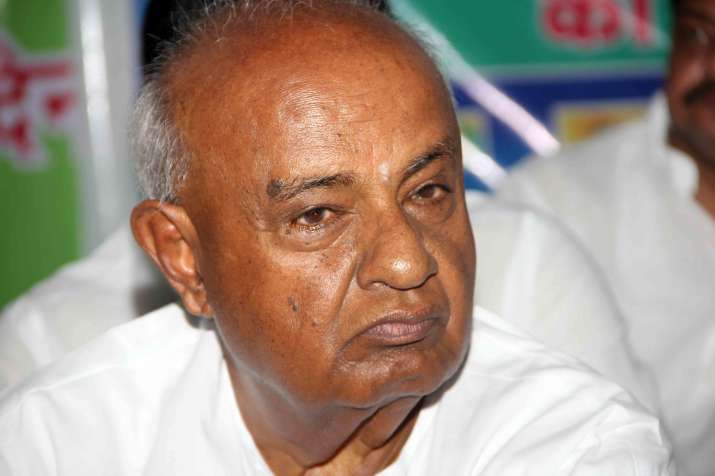 Former Prime Minister H.D. Deve Gowda on Saturday said Biju Patnaik played a major role in making him Prime Minister.
"Biju Patnaik played a major role in making me Chief Minister of Karnataka and Prime Minister of the country," revealed the former Prime Minister.
Describing Patnaik as a towering personality in Indian politics, Deve Gowda also said the union government should confer the Bharat Ratna on Biju Patnaik for his contribution to the nation.
"He deserves the highest civilian award of India," he added.
former President Pranab Mukherjee, Deve Gowda, former Deputy Prime Minister L.K. Advani and CPI-M General Secretary Sitaram Yechury on Saturday unveiled a book "The Tall Man Biju Patnaik", authored by writer and researcher Sundar Ganesan.
Mukherjee said Biju Patnaik was a legend in his life time and a true nationalist.
"Biju Patnaik was a legend in his life time. He became a legend because of his contribution. He is not confined to the territory of Odisha. He belongs to the people of whole India," said Mukherjee.
He also remembered his association with late Biju Patnaik, the former Chief Minister of Odisha, while he was deputy chairman of planning commission and minister at centre.
L.K. Advani also praised Biju Patnaik for his contribution, achievements and efforts in nation building.
CPI (M) leader Sitaram Yechury said, "Biju Babu was all along for secular forces. If we think for today again, it would be a great tribute to him."
Senior journalist and columnist Prabhu Chawla reviewed the biography while the book release ceremony was presided over by Biju Patnaik's son and Odisha Chief Minister Naveen Patnaik.
Naveen Patnaik said Biju Babu is an idea in continuity idea of realising the breadth of human aspirations, an idea of Odia self esteem, selfless service and empowerment.