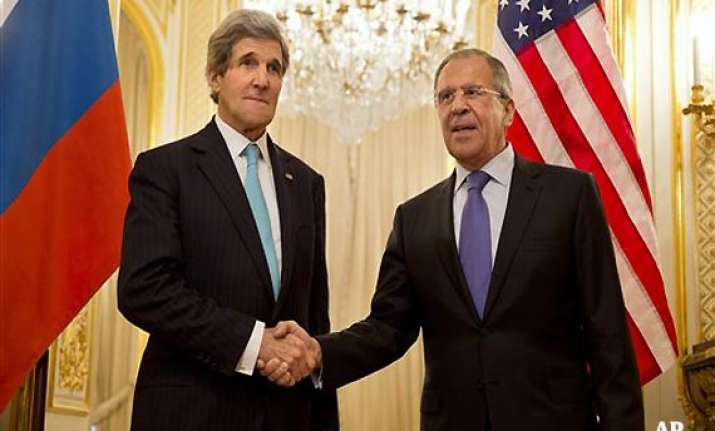 Paris: The United States and Russia agreed on Sunday that the crisis in Ukraine requires a diplomatic resolution, but four hours of talks between US Secretary of State John Kerry and Russian Foreign Minister Sergey Lavrov failed to break a tense East-West deadlock over how to proceed.
Sitting face-to-face but not seeing eye-to-eye on any of the most critical issues, Kerry and Lavrov advanced far- different proposals on how to calm tensions and de-escalate the situation, particularly as Russia continues to mass troops along its border with the former Soviet republic.
As he called for Moscow to begin an immediate pullback of the troops, Kerry also ruled out discussion of Russia's demand for Ukraine to become a loose federation until-and-unless Ukrainians are at the table.
"The Russian troop buildup is creating a climate of fear and intimidation in Ukraine," Kerry told reporters at the home of the US ambassador to France after the meeting, which was held at the Russian ambassador's residence and included a working dinner. "It certainly does not create the climate that we need for dialogue."
The US believes the massing of tens of thousands of Russian soldiers, ostensibly for military exercises, along the border is at once an attempt to intimidate Ukraine's new leaders after Russia's annexation of the strategic Crimean peninsula and to use as a bargaining chip with the United States and the European Union, which have condemned Crimea's absorption into Russia and imposed sanctions on senior Russian officials.
Kerry noted that even if the troops remain on Russian soil and do not enter Ukraine, they create a negative atmosphere.
"The question is not one of right or legality," he said. "The question is one of strategic appropriateness and whether it's smart at this moment of time to have troops massed on the border."
US officials said Kerry proposed a number of ideas on troop withdrawals from the border and that Lavrov, while making no promises, told him he would present the proposals to the Kremlin.