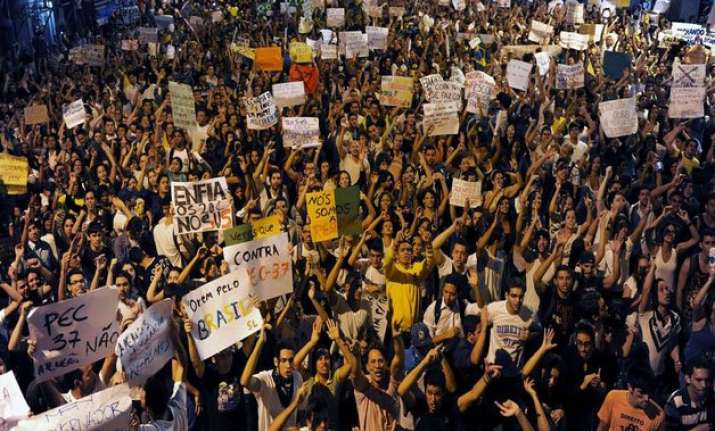 Rio de Janeiro:Hundreds of thousands of people took to the streets in the Brazilian city of Rio de Janeiro on Sunday as part of a day of protest in dozens of cities across the country against President Dilma Rousseff.
The demonstration in Rio de Janeiro started at 9.30 a.m. at Copacabana beach and drew far more people than organisers expected.
The protests were organised by grassroots groups that oppose the president but have no official links to any poltical parties.
The demonstrators chanted slogans against Rousseff and the ruling Workers Party (PT), calling for an end to corruption.
The majority of the protesters wore yellow and green garments, symbolising the colours of Brazil's flag.
One speaker drew huge rounds of applause when he called former President Luiz Inacio Lula da Silva the "chief of the gang" of corrupt politicians and said "he should be put in prison."
Rousseff's popularity plunged amid a series of revelations about the corruption scandal at state-controlled oil giant Petrobras in which nearly 50 politicians have been implicated.
The oil company, which accounts for about 12 percent of Brazil's GDP, is currently under investigation following the disclosure of widespread corruption said to have cost it billions of dollars since the mid-1990s.