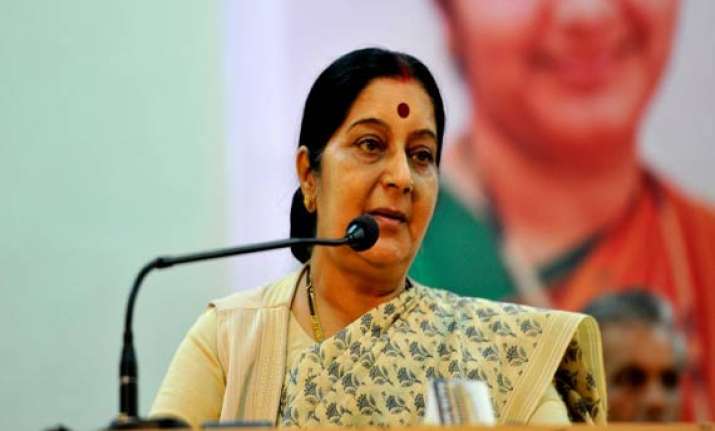 Nay Pyi Taw: External Affairs Minister Sushma Swaraj today held separate meetings here with her counterparts from seven countries including China, Australia, Canada, Vietnam and Indonesia and discussed a range of bilateral and regional issues, including disputes in the South China Sea.
In the meeting between Swaraj and her Vietnamese counterpart Pham Binh Minh, both leaders discussed about the South China Sea issue besides ways to further enhance bilateral cooperation in areas such as energy security and trade.
External Affairs Ministry Spokesperson Syed Akbaruddin said both sides were working towards a "high-level VVIP visit" from India to Vietnam later this year and Swaraj will go to that country later this month to pave way for the "important" visit.
When asked whether Prime Minister Narendra Modi will be going to Vietnam, he refused to share details.
Akbaruddin said Foreign Ministers of the Philippines, Australia, Vietnam, Canada and China have shared their views on the issue of South China Sea during the meetings with Swaraj on the sidelines of 47th ASEAN Foreign Ministers Meeting in here.
Fresh standoff started recently when China deployed a deep sea oil rig into waters close to the Paracel Islands, which, Vietnam, says belong to it.
India's ONGC Videsh (OVL) has operations in oil blocks in hydrocarbon-rich South China Sea. China has been objecting to India's oil exploration projects in the disputed waters.
"India is not a party to the dispute in the South China Sea. We feel that the dispute should be resolved between those who are party to it in a peaceful manner and it should be in accordance with international law," the MEA spokesperson said when asked about India's position on the issue.
"We have interest in ensuring that there is a free right of navigation and access to natural resources," he said.
In the meeting between Swaraj and her Australian counterpart Julie Bishop, both sides decided to expedite negotiations on the civil nuclear deal so that it can be concluded "at the earliest".
They also discussed various other issues.
"Both Ministers felt that they must expedite the process so as to have an outcome at the earliest during one of the forthcoming high-level visits," Akbaruddin said.
He said India and Australia are the members of Indian Ocean Regional Association (IORA) and there is likely to be a meeting of IORA in October and Swaraj will visit Australia to attend it.
Relation between India and Australia has been on an upswing and the civil nuclear deal will pave way for sale of uranium to India by Australia.
Australia holds about a third of the world's recoverable uranium resources and exports nearly 7,000 tonnes a year.
In the meeting between Swaraj and Chinese Foreign Minister Wang Yi, both sides reviewed bilateral ties and felt that they should work towards substantive outcome from the proposed visit of Chinese President Xi Jinping.
The Chinese side explained their position on the South China Sea issue while India is understood have conveyed its position.
The External Affairs Ministry Spokesperson said Swaraj proposed to go to China for a trilateral meeting as well as a bilateral event there.
In her meeting with Canadian Foreign Minister John Baird, Swaraj invited him to visit India for the annual dialogue between the two countries which he has "gladly accepted".
"The meeting is likely to be in October. In addition, there were discussion on possible cooperation in sectors such as energy, agriculture, security and counter terrorism. There was discussion on visas, particularly for Indian professionals going to Canada and matters relating to diaspora," the MEA Spokesperson said.
During the talks between Swaraj and her counterpart from Brunai Prince Mohamed Bolkiah, there were discussions on possible cooperation between the two countries in the petroleum sector.
Swaraj's meeting with Foreign Minister of Indonesia Marty Natalegawa figured a range of bilateral issues.