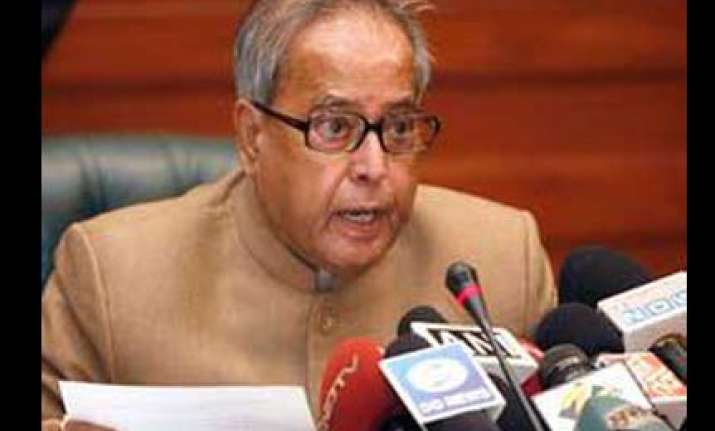 Gyeongju (South Korea), Oct 24 (PTI) The deal to reform the International Monetary Fund (IMF) to give greater clout to developing nations like India and halt aggravation of the ongoing currency war was struck at the last moment at the conference of G-20 finance ministers and central bank governors here.
The uncertainty continued till the last minute and it was only in the wee hours yesterday that officials, after intensive overnight negotiations, managed to put together a communique that was acceptable to all 20 countries.
"Till this (Saturday) morning, the situation was really uncertain. It was clinched in the meeting of G-7 and BRIC finance ministers," Indian Finance Minister Pranab Mukherjee told reporters.
While the G-7 represents the interest of industrial countries, the BRIC club comprises emerging economies like Brazil, Russia, India and China. The differences persisted mainly over ways to deal with the ongoing currency crisis.
According to officials, nothing was achieved in the first session of the two-day conference that began on October 22, as differences between the developed and emerging nations continued.
However, during the intervening sessions, BRIC finance ministers, who have emerged as an important pressure group advocating the cause of emerging economies, met and decided to extract the maximum that they could and conclude the deal.
'In between (the two sessions), the BRIC finance ministers met. Ultimately, when we resumed, it was decided we will have... (the deal)", Mukherjee said.
Officials involved in the negotiations said that talks continued for the whole night and the draft was redone several times before the communique, reflecting the collective views of the G-20 members, was given a final shape.
The communique spelled out a decision to give more voting power (quota share of 6 per cent) to emerging nations in the IMF, while asking nations to move towards "more" market- determined exchange rates and desist from "competitive devaluation" of currencies.
It reflected the viewpoints of both the US as well as China on the currency issue. The US wants China to appreciate its currency, the yuan, in line with market realities, a move that is being resisted by Chinese government as it might hurt exports.
This is what the US is asking China to do with regard to the yuan exchange rate.
Developed countries, including the US, have been advised to "pursue the full range of policies conducive to reducing excessive imbalances and maintaining current account imbalances".
For countries like India, which are suffering on account of appreciation of their currencies, the communique asked nations to "refrain from competitive devaluation of currencies".