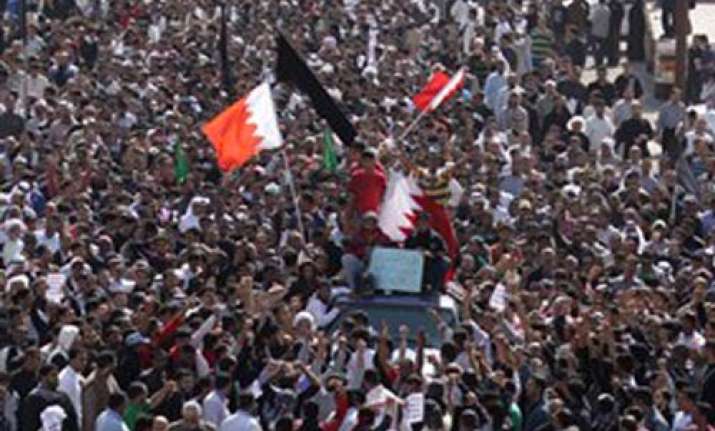 Manama, Bahrain, Feb 19:  Soldiers fired tear gas and shot heavy weapons into the air as thousands of protesters defied a government ban in Bahrain's capital of Manama on Friday, and streamed towards the landmark square which had been the symbolic centre of the uprising against the Gulf nation's leaders.Hospital officials said at least 20 people were injured, some seriously.
Crown Prince Sheikh Salman Bin Hamad Al-Khalifa later appeared on television to express his condolences "to all Bahrainis because of the painful days that we are living through."
"I would like to address them with a message: a message of a citizen, a message for men to be calm. We need time to evaluate what happened, and to regroup together again, and to restore our humanity, culture and future," he added.
The Crown Prince said that "this country is for everyone. It is not for one group and not the other. It is not for the Sunnis and not for the Shia. It is for Bahrain and the Bahrainis."He also called for "self control and ethics ... from all parties at this time. This includes the armed forces, police, and citizens."
The protests came a day after riot police swept through the protest encampment in Pearl Square, killing at least five people and razing the tents and makeshift shelters that were inspired by the demonstrators in Cairo's Tahrir Square.
An Associated Press cameraman saw army units shooting anti-aircraft weapons, fitted on top of armoured personnel carriers, above the protesters in apparent warning shots and attempts to drive them back from security cordons about 200 yards (183 metres) from the square.Marchers fled, some slipping on pools of blood in the street.In the past, security forces had mostly used rubber bullets.
The clash came hours after funeral mourners and worshippers at Friday prayers called for the toppling of the Western-allied monarchy in the tiny island nation that is home to the US Navy's fifth Fleet, the centrepiece of the Pentagon's efforts to confront Iranian military influence in the region.
The cries against King Hamad bin Isa Al Khalifa and his inner circle reflect a sharp escalation of the political uprising, which began with calls to weaken the Sunni monarchy's power and address claims of discrimination against the Shiite majority.
The mood, however, turned towards defiance of the entire ruling system after the brutal crackdown on a protest encampment in Manama, which put the nation under emergency-style footing with military forces in key areas and checkpoints on main roads.On Thursday, Bahrain's leaders banned public gatherings.
But the underlying tensions in Bahrain run even deeper than the rebellions for democracy that began two months ago in Tunisia and later swept away Hosni Mubarak in Egypt and are also challenging old-guard regimes in Libya and Yemen.AP