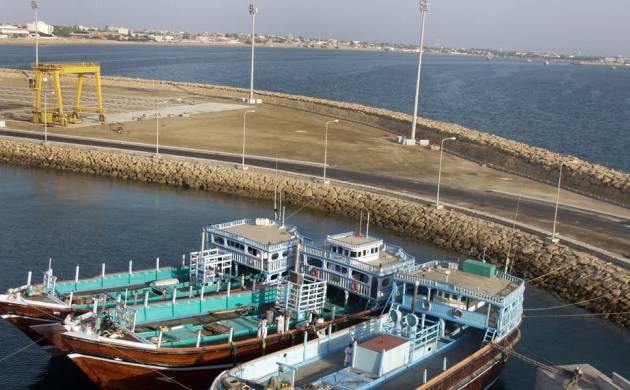 In a relief for India, the Trump administration on Tuesday exempted it from imposition of certain sanctions for the development of the strategically-located Chabahar port in Iran and the construction of the railway line connecting it with Afghanistan.
The decision assumes significance as the US had imposed the toughest ever sanctions on Iran a day earlier.
Since the US is known to be very restrictive in giving exemptions, the move is to exempt India is seen as a recognition by Washington of New Dekhi's role in development of the port on the Gulf of Oman, which is of immense strategic importance for the development of war-torn Afghanistan.
"After extensive consideration, the Secretary (of State) has provided for an exception from imposition of certain sanctions under the Iran Freedom and Counter-Proliferation Act of 2012, with respect to the development of Chabahar port, construction of an associated railway and for shipment of non-sanctionable goods through the port for Afghanistan's use, as well as the country's continued imports of Iranian petroleum products," a State Department spokesperson told PTI.
The US on Monday imposed "the toughest ever" sanctions on a defiant Iran aimed at altering the Iranian regime's "behaviour". The sanctions cover Iran's banking and energy sectors and reinstate penalties for countries and companies in Europe, Asia and elsewhere that do not halt Iranian oil imports.
However, Secretary of State Mike Pompeo said that eight countries—India, China, Italy, Greece, Japan, South Korea, Taiwan and Turkey—were temporarily allowed to continue buying Iranian oil as they showed "significant reduction" in oil purchase from the Persian Gulf country.
To a question on the fate of Chabahar port after the US reimposed all its sanctions on Iran, the spokesperson said, "This exception relates to reconstruction assistance and economic development for Afghanistan. These activities are vital for the ongoing support of Afghanistan's growth and humanitarian relief."
In May 2016, India, Iran and Afghanistan had inked a pact which entailed establishment of Transit and Transport Corridor among the three countries using Chabahar Port as one of the regional hubs for sea transportation in Iran, besides multi-modal transport of goods and passengers across the three nations.
Pompeo's decision to give India exemption from imposition of certain sanctions for the development of the port is driven by the South Asian strategy, which was announced by President Donald Trump in August. It states that India has a major role in bringing peace and development in Afghanistan.
"The president's South Asia strategy underscores our ongoing support of Afghanistan's economic growth and development as well as our close partnership with India," the state department spokesperson said.
"We seek to build on our close relationships with both the countries as we execute a policy of maximum pressure to change the Iranian regime's destabilising policies in the region and beyond," the spokesperson added.