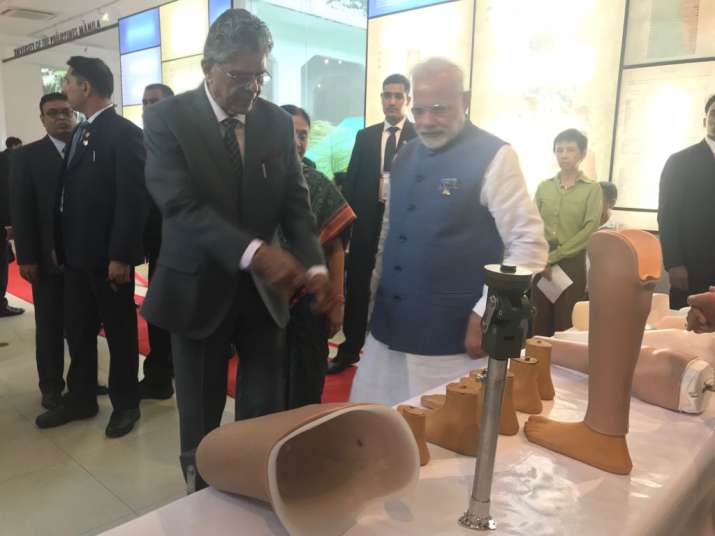 Prime Minister Narendra Modi today visited a philanthropist organisation in the Philippines that provides free Indian-made prosthesis 'Jaipur Foot' to needy amputees. 
The Mahaveer Philippine Foundation, a long-running humanitarian cooperation programme between India and the Philippines, was set up by highly regarded Indianorigin Mayor of Manila Dr Ramon Bagatsing in 1985. 
The foundation has been instrumental in the fitment of the 'Jaipur Foot' to needy amputees. 
About 757 amputees benefited from the programme this year. 
"Wonderful visit to the Mahaveer Philippine Foundation. Their efforts of fitting the Jaipur Foot on needy amputees have touched several lives. During my visit, saw a series of exhibits and interacted with amputees," Modi tweeted. 
The Prime Minister also interacted with a number of children at the foundation. 
"'I want to be a policeman' my young friend told me... glad to see the Jaipur Foot giving wings to the aspirations of many youngsters like him," said Modi in another tweet. 
Ministry of External Affairs Spokesperson Raveesh Kumar tweeted: "Sharing expertise to intensify humanitarian cooperation. Prime Minister Narendra Modi visited Mahaveer Philippine Foundation, which has rehabilitated million lives with the Indian-made 'Jaipur Foot'". 
The Mahaveer Philippines Foundation is an associated centre of Jaipur-based Bhagwan Mahaveer Viklang Sahayata Samiti which is the world's largest organisation rehabilitating over 1.55 million differently-able people through 'Jaipur Foot'. 
Modi arrived here yesterday on a three-day visit to attend the ASEAN-India and East Asia summits.