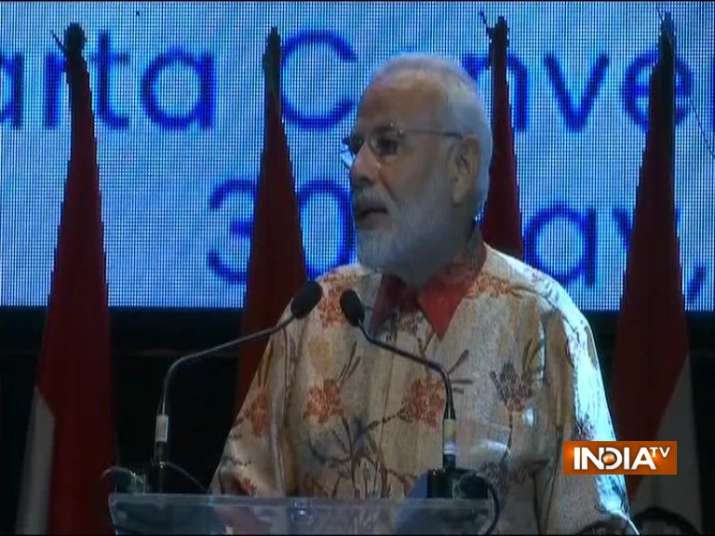 Prime Minister Narendra Modi on Wednesday addressed the Indian community in Indonesia capital Jakarta. He announced that arrangements were being made for free of cost visa to Indonesian citizens for travel of up to 30 days.
Modi began his Indonesia visit today by paying homage to martyrs of Indonesian independence struggle as he laid a wreath at the Kalibata National Heroes' Cemetery in Jakarta. Kalibata Heroes' Cemetery in South Jakarta is a military cemetery in Indonesia. It was built in 1953 and opened in November 1954 when the first burial took place. PM Modi later met Indonesian President Joko Widodo for one-on-one talks. The talks between the two leaders was followed by a delegation-level meeting between the Asian nations.
Noting that both India and Indonesia are maritime neighbours and sea faring nations, Prime Minister Narendra Modi and Indonesian President Joko Widodo issued the Shared Vision of the two countries on Maritime Cooperation in the Indo-Pacific. 
Here are the Top Quotes from PM Modi's address to the Indian community:
# We are making arrangements of free of cost visa for Indonesian citizens for travel of up to 30 days
# Many of you may never have been to India. I invite you all to come to India for the Kumbh in Prayag next year
# Not only do the names of our nations rhyme but also there is a distinct rhythm in the India-Indonesia friendship.
# Both India and Indonesia have a sensitive outlook when it comes to helping those in need. We do not see the colour of anyone's passport, we help our fellow humans who require any assistance.
# We have gone a step ahead of 'Ease of Doing Business.' Our focus is 'Ease of Living.' Our processes are transparent and sensitive.
# We in India are creating systems that are corruption free and development friendly.
# Vibrant people to people relations boost bilateral ties between India and Indonesia.
# Our first priority as a government is to make the country corruption free, citizen-centric and development friendly
# Both India & Indonesia are proud of their democratic ethos and their diversity. In 2014 people of India voted for a Government headed by a person belonging to a poor background. Similarly, the people of Indonesia elected President Joko Widodo whose background is also humble
# You are equally committed to your roots in India as you are to Indonesia, many of you are Indonesians but India is there in your hearts