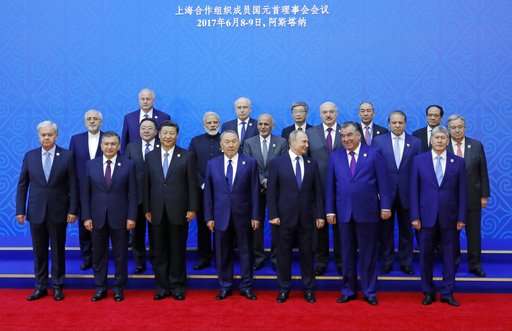 Welcoming India and Pakistan as full members of the Shanghai Cooperation Organisation (SCO), the leaders of the organisation on Friday said that the inclusion of the two South Asian countries carry historic significance for the outfit. 
According to Xinhua, a joint press communique released after the SCO summit in Astana said that granting India and Pakistan membership will boost the organization's development and potential. 
Founded in 2001, the SCO now has China, Kazakhstan, Kyrgyzstan, Russia, Tajikistan, Uzbekistan, India and Pakistan as its full members, with Afghanistan, Belarus, Iran and Mongolia as observers, and Armenia, Azerbaijan, Cambodia, Nepal, Sri Lanka and Turkey as dialogue partners.
The heads of state support the SCO to deepen mutually beneficial cooperation with its observers and dialogue partners, the communique said.
The leaders believe that the SCO should actively participate in establishing a fairer and multipolar world, promote democratization of international relations, and build an efficient global and regional security and cooperation structure as well as a community of shared destiny for mankind, the communique said.
The member states reaffirmed their commitment to implementing the Treaty on Long-Term Good-Neighbourliness, Friendship and Cooperation of the SCO Member States and pledged to resolve border disputes through friendly consultations, it said.
The leaders also exchanged views on the situation in Afghanistan, the Middle East and North Africa as well as Ukraine, stressing that regional conflicts can only be resolved through political and diplomatic means, according to the communique.
(With IANS inputs)