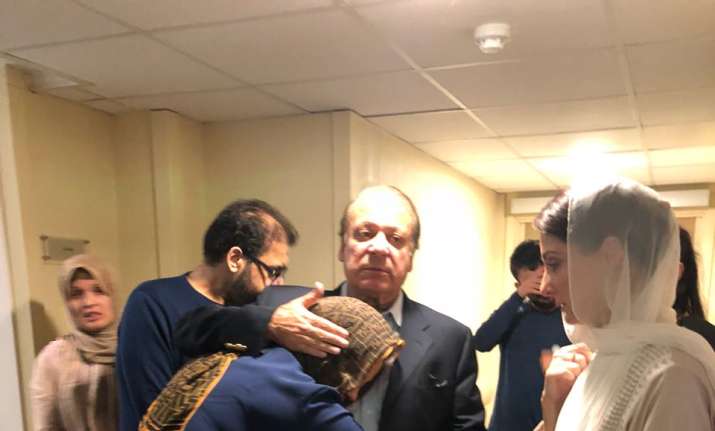 Former Pakistan Prime Minister Nawaz Sharif and his daughter  Maryam Nawaz have left London for Lahore to face an imminent arrest back home The father-daughter duo was convicted by an accountability court last week to 11 years, eight years in jail respectively. 
Sharif and Maryam took a flight to Lahore via Abu Dhabi from London's Heathrow Airport. In an emotional post on the micro-blogging website Twitter before leaving London, Maryam Nawaz said," Told my kids to be brave in the face of oppression. But kids will still be kids. Goodbyes are hard, even for the grownups." 
Meanwhile, a heavy security arrangement has been made at the airport where a large number of Pakistan Muslim League-Nawaz (PML-N) workers and supporters are expected to gather to express solidarity with the two top party leaders when they are arrested by National Accountability Bureau (NAB). According to reports, NAB has arranged two helicopters to ferry Nawaz Sharif and Maryam Nawaz from the airport. Sources said the two are expected to be directly moved to Adiala prison in Rawalpindi.
Deputy Inspector General Operations Shahzad Akbar said 10,000 police officers will be deployed across Lahore to "maintain law and order". The Anti-Riot Unit have been put on alert, and the Dolphin Squad and the Police Response Unit have been deployed in sensitive areas of the city.
The dramatic return by Sharif before the 25 July national election follows a two-year corruption scandal that engulfed Pakistani politics after the leak of the so-called Panama Papers showed his family used offshore accounts to buy high-end London apartments. The former premier was disqualified from the top job by the Supreme Court last July, his third ousting since the 1990s.
Watch: Ex-Pak PM Nawaz Sharif, daughter Maryam to be arrested today