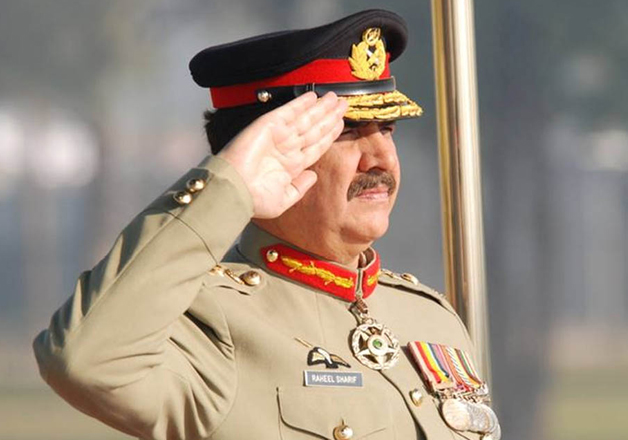 Pakistan's outgoing Army Chief General Raheel Sharif today handed over the command of the army to the incoming Chief of Army Staff General Qamar Javed Bajwa. 
Speaking at the 'Change of Command' ceremony at the General Headquarters in the garrison town in Rawalpindi, he warned India not to take Pakistan's 'patience' as weakness.
"India should know that mistaking our policy of patience for weakness would be dangerous," Pakistani news website quoted him as saying.
The outgoing General alleged that India is carrying out 'atrocities' in Kashmir and in recent months, New Delhi's increasing 'terrorism' and 'aggressive' stance have endangered the region.
Gen Sharif also stressed the need for institutions to work together for the nation's progress, and cautioned India against adopting an aggressive stance in the region.
Sharif further said that he always prioritised national interest in every decision he made during his tenure. But the security situation in the region remains 'complicated'.
General Qamar Javed Bajwa today officially took charge as the 16th Army Chief of Pakistan during the ceremony,
The farewell speech at the ceremony was attended by former army chiefs, federal ministers and foreign diplomats.
During the ceremony Gen. Sharif handed over the "command stick" to General Bajwa -- signifying the change over of the army command.
Gen. Bajwa has spent a considerable part of his military service in the Rawalpindi-based 10 Corps, which is responsible for guarding the Line of Control (LoC) that divides India and Pakistan. However, his time at the 10 Corps was a period of relative quiet following the 2003 ceasefire accord.
However, he takes command amid serious escalation of tensions on the LoC, which saw some of the intense exchange of fire in the past few months.
On a personal level, Gen. Bajwa is said to be witty, accessible, well-connected with the troops and not fond of limelight.
He is the fourth officer from the infantry's Baloch Regiment to become the army chief. Before him, Gen. Yahya Khan, Gen. Aslam Beg and Gen. Kayani rose to that position.