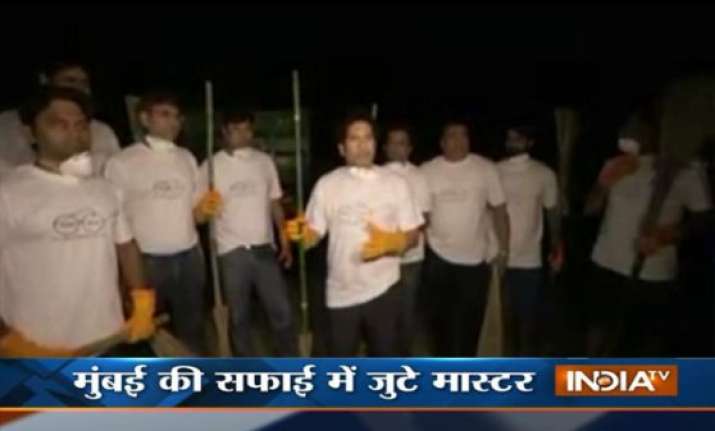 Mumbai: Cricket icon Sachin Tendulkar today accepted Prime Minister Narendra Modi's nomintaion as one of the 'ambassadors' of 'Swachh Bharat' campaign by sweeping a road here with a broom in hand.
Tendulkar, dressed in a white T-shirt with the 'Swachh Bharat' message, was seen along with his team holding brooms and removing garbage from Mumbai's streets.
He also urged his fans to be a part of the campaign.
Tendulkar was one of the nine celebrities nominated by the Prime Minister to spread awareness on cleanliness when he kicked off his ambitious campaign on October 2 on the 145th birth anniversary of Mahatma Gandhi.
"I have been entrusted the leadership role of 'Swachh Bharat' campaign by Shri Narendra Modi. So, I am here along with my team and will clean this area," Tendulkar said, while taking part in cleaning up the road with some youngsters.
"When all of us, including my friends got the information that I have received the leadership role, all my friends came together and said we will also lend our hand towards cleanliness and will try and keep India as clean as possible," said Tendulkar, who is also a Rajya Sabha member.
Tendulkar, who retired from international cricket last year with a pile of records in his name, said it was just the start and the campaign can move forward with more participation.
"This is the start and we can move forward from here by doing better work. So, we are a team and we will try to work with all our heart to our part well," he said.