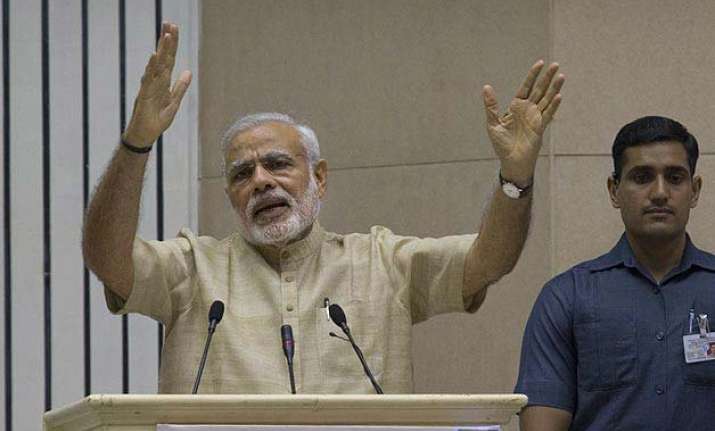 New Delhi: Lamenting that wisdom and prosperity do not go together, Prime Minister Narendra Modi today stressed on the need to have a combination of the two.
Batting for the need to inculcate the habit of reading among children, he said books are a treasure trove which keep spreading knowledge for generations to come.  He said when the Vedas were authored, no one had even thought of exploiting the nature and natural resources. "But there is a mention of ways to conserve nature...it is in the most scientific way...today when we talk of environment protection, the Vedas can come handy," he said.  
The Prime Minister was speaking after presenting the 50th Jnanpith Award to Marathi author Bhalchandra Nemade here.  He said when he handed over a shawl and the citation to Nemade, the author was happy. "But when I handed over a cheque of Rs 11 lakh, he was...," Modi said indicating that Nemade was not very comfortable.
He lamented that today wisdom (Saraswati) and prosperity (Lakshmi) do not go hand in hand. He stressed on the combination of Saraswati and Lakshmi as the key to India's progress.
The Prime Minister said creative writing has the capacity to touch lives of several generations.
Modi emphasised that literature is extremely important in the current age of technology where answers are sought to be found in "Google guru".
The Prime Minister regretted the declining interest in books and reading. He said people must ensure a special place for books in their homes.
"People demand good drawing rooms and bathrooms from architects but not a place to keep books. Architects too do not suggest libraries at home," he said.  He recalled the "Vaanche Gujarat" (Read Gujarat) initiative he had launched when he was Chief Minister of the state.
Delivering his address, the award-winning author "promised" the PM and the Jnanpith Trust that will continue to "record time accurately and write what is right." He said the Indian tradition continues to borrow and receive which makes it vibrant. He also said it is an incorrect notion that being 'desi' is to keep the approach "narrow".