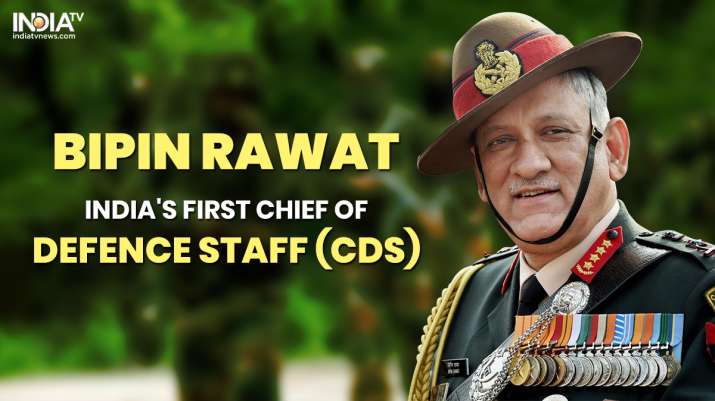 General Bipin Rawat is India's first Chief of Defence Staff (CDS). His tenure as the Army Chief draws to an end in December. Rawat is serving a rare full three-year term as the Indian Army Chief after he superseded two officers in 2016. The CDS will provide military advice to the government and implement joint procurement by the three services. The Chief of Defence Staff (CDS) will be a four-star position, created as part of a defence management overhaul. A CDS will not be eligible to hold any government office after demitting the office of CDS. Also, no private employment without prior approval for a period of five years after demitting the office will be permitted. 
WHO IS BIPIN RAWAT, INDIA'S FIRST CHIEF OF DEFENCE STAFF
In a career spanning 41 years, General Bipin Rawat has had an illustrious military profile with vast operational and staff exposure. 
Bipin Rawat is an alumnus of St. Edward School, Shimla, and the National Defence Academy, Khadakwasla. 
It was in December 1978 when Rawat was commissioned to the Fifth Battallion, the Eleventh Gorkha Rifles of the Indian Army from IMA, Dehradun. He was awarded the 'Sword of Honour'. 
General Bipin Rawat commanded an Infantry Battallion, along the Line of Actual Control in the Eastern Sector; a Rashtriya Rifles Sector; an Infantry Division in the Kashmir Valley; and, a Corps in the North East. 
He also commanded a Multinational Brigade, in a Chapter VII mission in the Democratic Republic of Congo (MONUC). As an Army Commander, he commanded a theatre of ops along the Western Front. 
2.      General Rawat's staff and instructional assignments include, Instructional tenure at IMA Dehradun; General Staff Officer, at the Military Operations Directorate; Logistics staff officer of a Division in Central India; Colonel Military Secretary and Deputy Military Secretary in the Military Secretary's Branch; and Senior Instructor, Junior Command Wing. He has been Major General Staff of the Eastern Theatre, and the Vice Chief of the Army Staff.
General Bipin Rawat is a graduate of the Defence Services Staff College, Wellington, the Higher Command and National Defence College courses and, has attended the Command and General Staff Course at Fort Leavenworth, USA. 
In his career, Rawat has been awarded for gallantry and distinguished service with the UYSM, AVSM, YSM, SM, VSM; COAS Commendation on two occasions and the Army Commander's Commendation. Whilst serving with the United Nations, he was twice awarded the Force Commander's Commendation.
Bipin Rawat's authored articles on 'National Security' and 'Leadership' have been published in various journals and publications. 
He was awarded M. Phil in Defence Studies from Madras University, and holds two Diplomas, in Management and Computer Studies respectively. General Bipin Rawat completed his research on military media strategic studies and was awarded Doctorate of Philosophy (Ph.D) from Chaudhary Charan Singh University, Meerut.