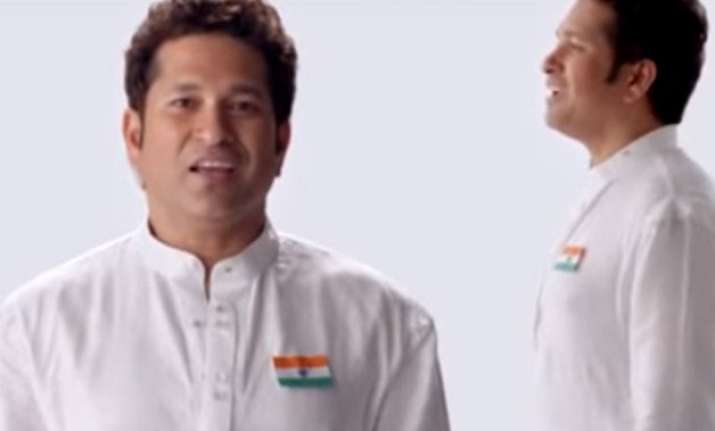 Mumbai: With the preparation of the 67th Republic Day going on in full swing, India's sports stars collaborated to create something exceptional. Iconic players including Sachin Tendulkar, Sania Mirza Sunil Gavaskar, Dhanraj Pillai, Gagan Narang, Sushil Kumar, Baichung Bhutia and Mahesh Bhupathi came together for a video in which they are seen singing the National Anthem, Jana Gana Mana...
Tendulkar who is known for his humble behaviour on and off-field recently proved his modesty when Bollywood icon Amitabh Bachchan him "great" and also said, he should not be placed on the level of the cricketing legend. Bachchan tweeted a picture featuring him along side Tendulkar and famous singer Lata Mangeshkar. Tendulkar is considered one of the best batsmen cricket ever had across the globe, having scored over 15000 runs in both Tests and ODIs. He is the only batsman in history to have scored 100 international centuries.
The video's message emphasises on movement to inspire our young generation to play sport, because it teaches you not just to compete, but bounce back too. Tendulkar recently launched two safety initiatives by Mumbai Railway Police- Safety Alert Messages Exclusively for Passengers (SAMEEP) and B-Safe. Indian batting legend Sachin Tendulkar got to flaunt his love for Marathi cinema by supporting "Police Line Ek Purna Satya", a film based on the lives of policemen when they're on and off duty.
Batting maestro Sachin Tendulkar said that singing the national anthem in front of a packed Wankhede Stadium before the 2011 World Cup final is the "proudest feeling" he has ever had in his life.
"But it (singing of national anthem) goes to a different level altogether, when you are playing against Pakistan in 2003 World Cup (in Centurion), standing inside the stadium, in the middle of the group, with 60,000 people singing 'Jana Gana Mana'," the right-handed former India batsman said.
He was speaking at the unveiling of an album 'The Sport Heroes', aimed to inspire the younger generation towards sports.
"When you sing the 'Jana Gana Mana', your head is always held high, but when you sing it (standing) in the centre of the ground, then...seena chauda ho jata hai (chest swells with pride)," Tendulkar said.
"A couple of experiences, one was that (against Pakistan). The other one was when we played the 2011 World Cup finals, I can never forget that experience, the entire stadium singing 'Jana Gana Mana' and it still reverberates in my ears. It's the proudest feeling I have ever had in my life," the master blaster said.
"We achieve so many personal goals, also team milestones are achieved, but when its comes to our national anthem, everything else takes a backseat," he feels.
Tendulkar was part of the World Cup (50 overs) winning team where India defeated Sri Lanka in the finals at the Wankhede stadium here in 2011, to lift the trophy after 28 long years.
The video "The Sport Heroes", directed by Abhijit Panse, features the national anthem sung by eight well-known sports personalities - Sachin, Sunil Gavaskar, tennis players Sania Mirza, Mahesh Bhupati, hockey legend Dhanraj Pillay, football star Baichung Bhutia, Olympic medal winner and shooter Gagan Narang and wrestler Sushil Kumar.
It was launched by International Institute of Sports Management, which is founded by former India and Mumbai cricketer Nilesh Kulkarni.
Also present on the occasion were Dhanraj Pillay and Bollywood actor Riteish Deshmukh. Short video messages about what national anthem means to the other players featuring in it were also shown on the occasion.
(With Inputs from PTI)
Here is the video: