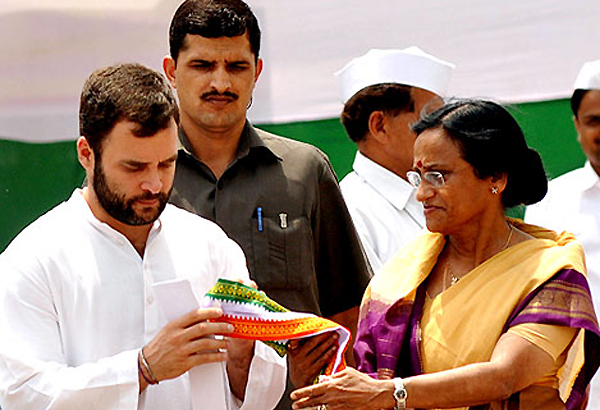 New Delhi, March 9: Amid speculation that the Congress is mulling revamp of its leadership in UP following the poll debacle, state party chief Rita Bahuguna Joshi today handed over her resignation to Sonia Gandhi owning full responsibility for the poor performance. 

After meeting Gandhi at her 10, Janpath residence, Joshi told reporters that it is for the Congress President to take a decision on her resignation letter.

"Rita Bahuguna Joshi has owned responsibility. It is for the Congress President to decide on it. We will apprise you when a decision is taken," party spokesperson Manish Tewari told reporters.

"We do not comment on individuals," he said when asked whether AICC general secretary Digvijay Singh, who is the party in-charge for UP, should also quit. Tewari said that outcome of election in each of the states will be thoroughly reviewed.

Rahul Gandhi, who led the high-octane campaign in the state, has already accepted the responsibility for the party's defeat.

Congress had finished fourth in the elections after SP, BSP and BJP, winning only 28 seats which was marginally higher than the 22 it had secured in 2007 in the 403-member Assembly.

Even in Amethi and Rae Bareli, the pocketboroughs of the Gandhi family, the results were a shocker as it managed to win only two of the five seats in the former which is Rahul's constituency, while it lost all the five in the Congress President's parliamentary seat.

For Joshi (62), it was her second term as state party chief.

Congress insiders said that the leadership could go in for a lot of changes in several states to prepare the party for the 2014 Lok Sabha elections.

Sonia Gandhi, who held one to one interaction with party workers and reviewed the results a day after the counting, has attributed "mistakes" in ticket distribution, "too many leaders" and weak organisational structure as the key factors for the party's rout in the state.